NEWS
Dr. Phil: "Spears Situation Too Intense"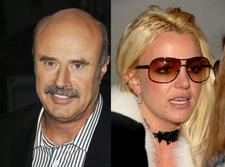 In a surprising move, TV therapist Dr. Phil has opted to cancel his much-hyped Britney Spears special planned to air later this week.
In a statement on his Web site, he explains:
"We had planned to tape a Dr. Phil Now show today, focusing not on the tabloid side of Britney's latest problems, but instead on the very serious issues surrounding this case. Clearly, it is not just Britney's family struggling to find a way to protect adult children who cannot be ordered or compelled to seek help.
Article continues below advertisement
"Because the Spears situation is too intense at this time, and out of consideration to the family, I have made the decision not to move forward with the taping at this particular time.
"Britney and her family are in our prayers, and we ask that they be in yours."
Earlier Monday, CBS' The Early Show aired a portion of Phil's interview with Entertainment Tonight, where he attempts to clear the air on his much talked-about trip to visit Britney in the hospital moments before her Saturday morning release.
"I want to set the record straight," he says. "I went to see Britney at the request of her family. I talked to her mother Lynne, I talked to her father Jamie, I talked to Bryan, her brother. They were very frustrated that she apparently wasn't going to be held for a longer period of time."
The embattled 26-year-old was released from the hospital via underground tunnel early Saturday morning after a 36-hour evaluation.
Article continues below advertisement
Dr. Phil, who says he's maintained a relationship with the Spears clan over the past year after being contacted by them, insists that he only stopped by the medical center at the behest of Lynne.
"Thursday night the phone rang. And it was Lynne. And she has a very close relationship with my wife, Robin. And clearly she was very upset, which you would expect any parent would be."
Since her release, Britney has reportedly been spotted with paparazzi boy toy Adnan Ghalib in Palm Springs, Calif.
For more on Dr. Phil's involvement in Britney's saga, tune in to Entertainment Tonight on Monday!