NEWS
Drew Barrymore Dishes on Phone Sex Experience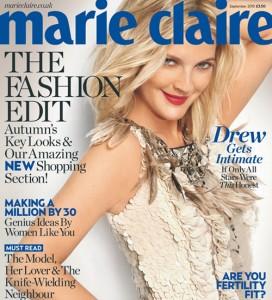 Drew Barrymore opens up on some juicy topics in the UK edition of Marie Claire. The 35-year-old actress glows on the cover for the mag and "gets intimate" with her topics — phone sex and finding love!
Drew has a phone sex scene in her upcoming rom-com Going the Distance — the film in which she stars with on-again/off-again boyfriend Justin Long.
Article continues below advertisement
"Oh, I've had successful phone sex — it can work," Drew tells Marie Claire UK, via Huffington Post. "I think it's f--ing weird — it's super weird. I totally tried it, though, with a little success at one point in my life, but it was just a thing you try, like wearing orange for a while. I don't think it's something I could live my life with."
"What makes me happy right now is something very tangible and that's the people I know that I really, really like and love and get such a sense of happiness from. My tribe," she added.
Despite all her relationships, Drew says she hasn't learned much more on love — actually less!
"I'm happy to say that, at 35 years old, I feel I know less than ever, but in a liberating way. I'm trying to figure out how to make relationships work. The only thing I know is that there aren't any rules. There should be no infrastructure on how a couple is supposed to work. Life isn't like that."
Drew's Going the Distance with Justin hits theaters Aug. 27. Check out the phone sex scene in the trailer!