NEWS
Drew Barrymore Dresses Up for 'The Daily Show'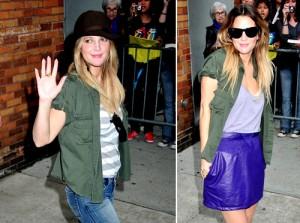 Going the Distance is what Drew Barrymore has to do now, so when the star headed to The Daily Show in NYC she dressed up! Drew was spotted wearing both jeans and a shiny purple skirt, but she opted for the more casual look on the show. And luckily, her interview with Jon Stewart went better than a previous one she had. Definitely don't want to get on Drew's bad side!
Article continues below advertisement
Drew played coy about her on-again, off-again relationship with Justin Long on The Daily Show Wednesday night, but the interview went much better than one she talked about with the London Daily Standard.
"You should have heard this bitch I had to do an interview with before you. God, I wanted to punch her, she would just not drop the youth thing," Drew vented to the London Daily Standard about a previous interview. "I have no problem talking about it. I am not someone who is ashamed of my past. I'm actually really proud. I know I made a lot of mistakes, but they in turn were my life lessons."
OK! GALLERY: GOING THE DISTANCE STARS LIVE UP TO THEIR NAME IN L.A.
"It's actually good to get it done young and have a great life later," Drew added. "But yeah, man, I wanted to rip this woman's face off. She just would not shut up about it."
But Jon didn't make the same mistake! Check out Drew's chat with Jon in the clip below!