NEWS
Drew Barrymore: I Won't Lose Baby Weight Doing Crazy Diets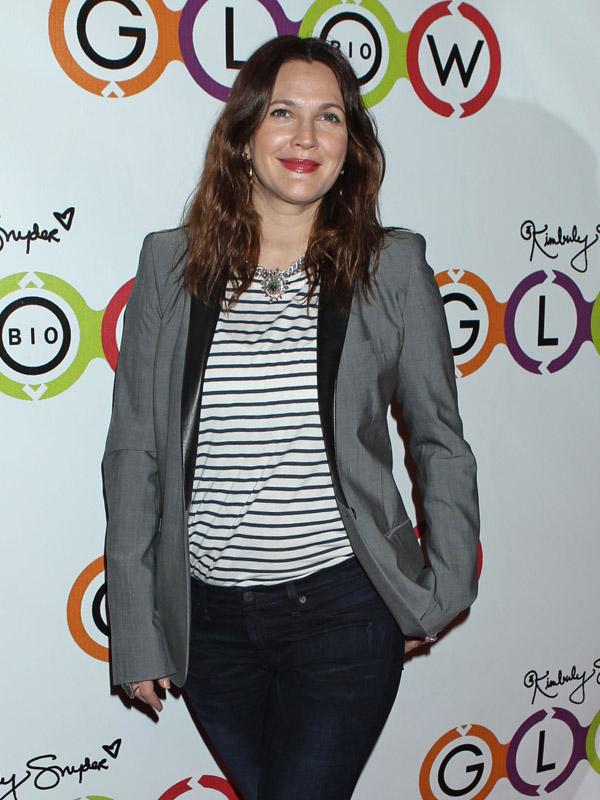 Article continues below advertisement
The new mom looked glowing and says she's going to buck the celebrity trend to instantly snap back into skinny jeans just weeks after giving birth.
"Forget crazy, that's silly," she said of extreme dieting. "We always have to be healthy. And impossible expectations are impossible. This is the time to be nice to yourself and give yourself some time and be happy and eat good food and be normal about it."
Drew says that she loves doing Kimberly's juicing system because it works for her. And it shows because the starlet looked fantastic in a pair of skinny jeans and a striped blouse.
"It's amazing. I just wanted to come here and support Kim because I love her and I believe in her," the actress gushed.
OK! GALLERY: CAMERON DIAZ ESCORTS PREGNANT DREW BARRYMORE TO HER FINAL DRESS FITTING
"And as a new mom I live and worship her program because it's happy and doable and this is an amazing moment. I'm so happy that she has a place I can come to all the time because I'm always hitting her up so I now I can come to her shop. It's the best."
Article continues below advertisement
And with the holidays coming up, Drew, who tied the knot to Will Kopelman back in June, says that she's going to enjoy all the great food during the festive season.
"Oh my god, I'm going to enjoy the holidays like a normal person. Like a sane person. People who don't - that's crazy," she laughed.
OK! GALLERY: DREW BARRYMORE & WILL KOPELMAN GO SIGHTSEEING IN PARIS
And as the accomplished filmmaker and movie star settles into motherhood she told okmagazine.com that she couldn't be happier.
"I love it. It's the greatest thing in the world," Drew shared.
Kimberley says that Drew has been doing her program at home and eating all her food to lose weight the healthy way.
Also in attendance at the opening of Glow Bio by Kimberly Snyder were other celebrity fans of her products; Ben Stiller and wife Christine Taylor, Jenna Tatum, Kate Mara, Catt Sadler, Dita Von Teese and Maksim Chmerkovskiy.