NEWS
Drew Celebrates Birthday With Justin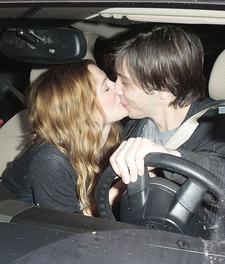 Actress Drew Barrymore celebrated her 33rd birthday on a romantic date with boyfriend Justin Long at Beverly Hills' Mr. Chow restaurant. And OK! has learned the happy couple couldn't keep their hands off each other.
Drew and Justin arrived at the famed celebrity Chinese eatery at about 10:30 p.m. on Feb. 22, the ET star's birthday.
"They sat at the bar first and ordered TsingHua beers," an eyewitness said. "Justin started kissing Drew with his eyes closed. Then they were engrossed in deep conversation. But throughout their chat, he kept giving Drew sweet little kisses.
Article continues below advertisement
"Justin told the bartender it was Drew's birthday and the bartender wished her a happy one. Then Justin toasted Drew and they clinked their beer bottles together.
"Drew told the maitre d they wanted to share a laid-back evening together but instead, they had been blinded by the paparazzi outside the restaurant."
Once they moved to their table, Justin and Drew shared Mr. Chow's signature lychee martinis, walnut chicken and rice. "It was a total PDA fest throughout the meal," the eyewitness told OK!. "Drew was smiling and laughing at Justin's jokes and he would lean in often to kiss her, lovingly stroke her hair or hold her face with both of his hands. Drew has never looked happier. She was glowing."
After their cozy hour and a half dinner date, The Break-Up actor drove Drew off in his black Toyota Prius, through another blinding paparazzi storm, the eyewitness said.
"Given their physical behavior with each other inside the restaurant, they needed to get a room!" the eyewitness laughed.
By Carole Glines