NEWS
DVR THIS: 30 Rock Season Finale!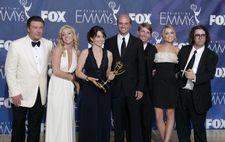 30 Rock rolls out its season finale tonight! You gotta feel sorry for Jack. After seeing what life is like on the 12th floor last week, I could totally understand why he practically jumped at that job offer in D.C.
But life on the hill isn't all it's cracked up to be, and Jack winds up teaming with another government employee, Cooter (guest star Matthew Broderick) to get himself fired. Hey, got to figure out a way to earn those unemployment checks! Jack enlists the help of his former love interest C.C., (guest star Edie Falco) to put his plan into motion.
Article continues below advertisement
TGS headwriter Liz Lemon has a pregnancy scare that brings deadbeat ex-boyfriend Dennis (Dean Winters) back into her life. When did she and the subway hero get it on? While he was scheming to toss her on the tracks?
Slightly insane actor Tracy Jordan is in the final stages of creating his legacy, a porn video game that they said could never be done. Hey, with Grand Theft Auto IV making $500 million its first week, I'd be willing to figure it out!
So how does 30 Rock keep scoring such killa guest stars? Star Scott Adsit reveals the show's secret. "For $500 you can be a guest star, which is why we keep seeing Jason Sudeikis pop up on the show." You know I'm so overdrawing my bank account so I can get some screen time.
30 Rock, season finale, airs Thursday, May 8 at 9:30 p.m on NBC.