NEWS
DVR THIS: Las Vegas 100th Episode!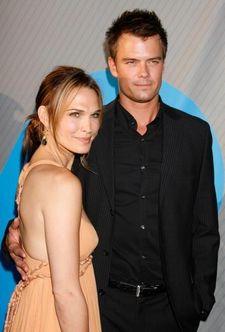 What happens in Vegas…stays on TV!
The NBC series Las Vegas is celebrating its 100th episode, which was shot before the TV writers' strike, on Jan. 11. My Los Angeles counterpart Carole Glines recently talked to stars Molly Sims and Josh Duhamel about the hit drama's longevity.
Molly, who has played Delinda since the show started in 2003, says, "It's like the little train that could. We just kept on going. We have a formula that I don't think is otherwise on TV. We have a little comedy; we have a little drama, a little bit of everything and we don't take ourselves too seriously. We really have a good time and I think it shows."
Article continues below advertisement
Leading man Josh has played security agent Danny since the show's inception. "The backdrop of Las Vegas gives you the opportunity to come up with a million different stories," he said. "People like going to Las Vegas—they enjoy the fun of it, the decadence, the sin and that's what we focus on."
A big plotline this season has been Delinda's pregnancy on the show. And on the 100th episode, the character feels self-conscious about the weight she's put while expecting, while her baby daddy Danny puts on some "sympathy weight." Molly read the books What to Expect When You're Expecting and 100 Things I Hate About Pregnancy to prep for the storyline. "I've learned so much, anywhere from itching your belly to how to walk to how to stand," she said. "That's been an amazing little adventure. The pregnancy body suit has built-in boobs. It has the stomach. It feels very real. You can't see your feet!"
The faux pregnancy inspired a lot of joking on the set. Molly said Josh has yelled, "Hey, fatty! Come here!"
All joking aside, Josh said, "playing an expectant dad has been fun for me because you get a chance to kind of learn what any sort of guy goes through when he's expecting. I've never been through that."
Maybe now that he's engaged to longtime girlfriend Fergie, real life fatherhood won't be too far off for the TV hunk!
Las Vegas, the 100th episode, airs Friday, Jan. 11 at 10 p.m. on NBC.