NEWS
DVR This: Moonlight & Mistletoe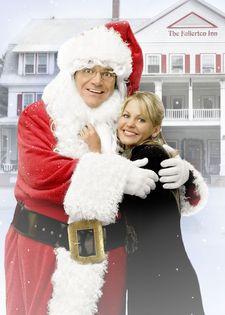 You know after you stuff yourself with turkey this evening, it's gonna take all your strength just to reach out to press the keys on the remote control.
So you might want to make sure you've already got it tuned to the Hallmark channel for Saturday night. Candace Cameron Bure has a holiday movie!
The Full House alum stars in Moonlight & Mistletoe as Holly, the daughter of a St. Nick, played by Tom Arnold (for real!), who runs a town called Santaville. "It's Christmas 365 a year there," Candace tells me.
Article continues below advertisement
Holly packed her bag and hit the road as soon as she was old enough to escape the merriest place on earth. "I got tired to playing second fiddle to all the other kids as my dad played Santa and made everyone else happy," Candace says.
But when St. Nick falls hard on his luck (and in this economy, who hasn't?), Holly returns home to lend a helping hand.
"In the process our relationship comes together. We make amends and live happily ever after," Candace shares. "It's a great Christmas, family movie."
And a great chance for Candace and Tom to bond. "We talked about everything from spiritual things to hockey and sports, and ultimately Bob Saget, which was kind of our common bond that brought us together," she laughs. "Tom was a joy to work with and to get to know."
Even though it's a light-hearted family film, Cameron does admit there was one scene that broke her down.
"In the movie, my mom who is Nick's wife has passed away. We have a very touching moment where he brings out this keepsake box that he's had for ten or 15 years that Holly's never seen," she explains.
"I wasn't expecting to get emotional during the scene since it's more about my dad, but Tom was so sensitive in it, I was blubbering like an idiot throughout every take."
Tis the season to be teary!
Moonlight & Mistletoe airs Saturday, Nov. 29 at 9 p.m. on the Hallmark Channel.