NEWS
DVR THIS: My Name is Earl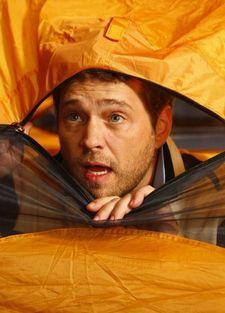 Jason Priestly is back on TV!
Sorry, he's only returning to direct that show. But the 90210 alum will be causing onscreen headaches for one of the Hickey brothers on My Name is Earl.
"I play Earl's cousin, Blake, who is a professional backpack model," Jason says, explaining, "You've seen him in all the top outdoor catalogs. I know it's a little bit of a niche, but a very profitable niche, if done correctly."
Article continues below advertisement
Jason does get to go back to his glory days. "It's a flashback to 2000 and Earl throws an engagement party for Joy and of course, it all goes horribly wrong," Jason teases.
Earl does get a bit of a break in the episode, since he doesn't have to pay back karma. "He didn't do anything wrong to me," Jason says, adding that Blake may owe Earl the apology.
"Blake and Joy had a sexual liaison at a certain time. Once Earl finds out about that, it really sends him off."
Roadhouse fight! But Jason promises the fallout is thoroughly worth it.
"Watching two grown men competing like that is very funny," he declares. "Jason Lee is such a funny actor, and Earl is such a funny character, it was a pleasure for me to go over there work with him, be in presence of comedic greatness."
On the subject of karma, Jason says there's one thing he wouldn't mind doing over.
"The mullet I had in the '80s, I'd like to take that back," he laughs.
Don't worry Jason. We forgive you!
Catch My Name is Earl on Thursday, Nov. 13 at 8 p.m. on NBC.