NEWS
DVR This: Nip/Tuck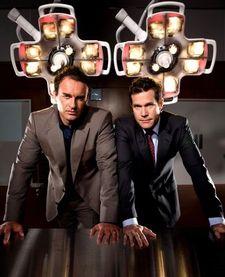 Been feeling loose? Tighten up tonight with the New Year premiere of Nip/Tuck.
If you remember where we left off, Sean's stalker fan Colleen Rose had finally carved out a relationship with him, by plunging a knife in his back.
Moment of digression… I never understand why people use anger to push their love struck crazies away. The trick is to make the person think you're even needier for them than they are for you. That always sends people running, not that I'm speaking from experience. And even if you think I'm speaking from experience, I'll never fess up!
Article continues below advertisement
There's a lot of blood in the first five minutes of this fresh new episode, but after five seasons of Nip/Tuck, that shouldn't be a problem for even the most squeamish of viewers. Sean takes care of his pesky Colleen problem, but it leaves him with new challenges. Mainly he morphs into Grey's Anatomy as he becomes a professor at the local university with lots of pretty young interns in tow. (And we know how the teacher/student relationship plays out at Seattle Grace!)
Christian has his own issues, though they are in his pectorals. How he gets this shocking, life-threatening news is kind of comical. Christian definitely gets a new appreciation of a scary-looking piece of medical equipment usually reserved for women.
Now don't you worry. Even though the boys are down, they aren't out. No matter their personal demons, they still get the ladies. These boys always seem to get a clean break in the end, just like they like to leave on the surgeon table…
Nip/Tuck returns Tuesday, Jan. 6 at 10 p.m. on FX.