NEWS
DVR This: Victoria's Secret Fashion Show and Look-A-Like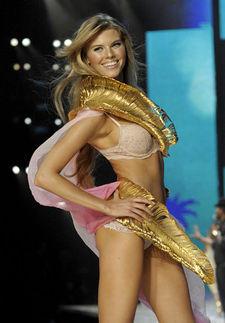 When you tune in for the Victoria's Secret Fashion Show – airing tonight at 10 p.m. on CBS – don't beat yourself up for eating too much on Thanksgiving as you watch the perfectly bodied Angels tear up the catwalk, scantily clad in too-cute undies.
First off, the show was shot before turkey day. And as model Selita Ebanks declared, "I'm not planning to stay thin for the holidays!
"I'm completely indulging in my Caribbean roots and I'm going to eat everything that has to do with coconut milk, curry, rice and peas and all of that," she confessed at the opening of the new ginormous Victoria's Secret Lexington, on New York City's east side. Time for the lingerie gods to put out a post-holiday stretch collection!
Article continues below advertisement
Yes, Virginia, even supermodels have to work out.
New model mom Alessandra Ambrosio revealed her secret on getting back in runway form just three months after giving birth to daughter daughter Anja Louise.
"I started waking up in the morning, working out and eating healthy," she admitted.
"I was using the elliptical trainer and I have a personal trainer from Brazil. We do a lot of crunches and butt exercises. He does the Brazilian Butt Lift at Equinox gyms. It's really amazing, but it's really hard. So I do an hour of that and 45 minutes of cardio."
See, being a supermodel is tougher than you think.
But turning into Brad Pitt isn't that difficult. Catch a spot-on transformation on Look-A-Like tonight at 8 p.m. on the TV Guide channel.