NEWS
DWTS: Bye-Bye Belinda!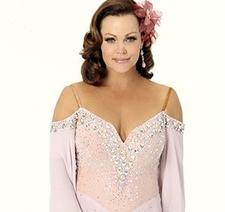 It's an easy joke to make, but unfortunately for Belinda Carlisle, it was her time to Go-Go on the new season of Dancing with the Stars.
Tuesday night's elimination show featured a first-ever "dance off" between the two lowest scoring competitors — Go-Go's lead singer Belinda and computer dude Steve Wozniak. Both scored a 17, but Belinda seemed a little shakier in her dance, the salsa, so she went home.
Article continues below advertisement
Before she got eliminated, Belinda, a longtime fan of DWTS, shrugged to OK! about the harsh judging, "Everything they said was totally valid. I have a lot to work on."
After the show, her partner Jonathan Roberts told OK! that Belinda took the exit hard: "She was really disappointed. She totally cried and was upset that the stress just got to her. I have to say that the 'dance-off' was hell. Every Tuesday is horrible but this has got to be the worst thing ever. You don't even know if you should prepare or not prepare to dance one more time."
Belinda now will spend time with her husband, Morgan Mason, and son James, 16, who is interested in politics. She also has lots of Go-Go's gigs planned.
Sadly, Belinda wasn't on the show long enough to get one of its benefits — major weight loss. "I haven't lost a pound," she confided to OK! "I bought a scale at Rite-Aid and I've been getting on it every day, 'please God, please God!' but it hasn't happened. But my body's tightened up and my butt is higher!"
Article continues below advertisement
Jonathan said, "The first two weeks of teaching her she was shy and conservative and quiet and then as she got more comfortable, she got crazy and wild. The salsa was just the beginning."
But, unfortunately, it was really the end. Ty Murray said, "She's such a first class, sweet lady. Right from the beginning, she could tell I was a duck out of water and took me under her wing. I was really pulling for her."
Denise Richards told OK! "I love Belinda and it's really hard, especially, I would imagine, to be the first one to go."
Meanwhile, Tony Dovolani, who is partnered with former Bachelor star Melissa Rycroft, said he actually likes the new "dance-off" format: "I think the producers came up with something that makes Tuesday nights really entertaining."
Steve-O returned to the ballroom and hopes to be back in competing form next week after going to the hospital for his back injury. Gilles Marini was ecstatic to have the Jackass star back: "I screamed, 'Steve-O is the man!' " he told OK! "I don't want him to go anywhere. He's changed his life."