NEWS
DWTS Claims Its First Celeb Victims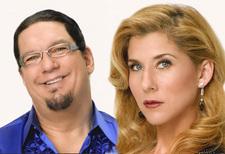 Penn Jillette and Monica Seles bid the ballroom goodbye as they were voted off in Dancing With the Stars' first-ever double elimination on Tuesday night.
The lowest scoring man and woman were both shown the door. While viewers of the hit ABC reality show decided that tennis champ Monica can serve better than she can shimmy, illusionist Penn couldn't make the judges' harsh comments about his big feet disappear.
Article continues below advertisement
OK! went backstage to get the reaction as the two stars left. "I had a great time," Monica said. "I just really gave it my best. I wish I could have stayed on longer but I know I'm not the most natural dancer.
"I have two left feet. I've also learned that I don't have much rhythm!" the good natured tennis queen admitted to OK!. "I'll miss the costumes, but not the spray tan!"
The tennis great joked that her next career move would be writing a book called How to Be the Worst Dancer Ever! But seriously, Monica said she was really penning an inspirational book "about overcoming different challenges and… finding the balance in your life."
Her loyal partner Jonathan Roberts told OK!, "I'm really proud of Monica. She came from being such a great champion in tennis and she took the risk to do something that she totally had never done before. We know some of the other contestants have had acting or some sort of dancing experience and she really hasn't. That takes a lot of guts."
The eliminated male star, Penn, explained that the competition element of the show eluded him. "I've never competed in anything. I was never on a sports team; I don't play games so I don't understand the competition part. I loved the time dancing; the time backstage sitting around was not that great."
Article continues below advertisement
But Penn said he valued his time with professional partner Kym Johnson. "I don't know if I learned anything about myself. I met a wonderful person and learned some more skills."
The illusionist, who expects his Penn and Teller show to go on in Las Vegas "every night 'til I die," was still smarting over the judges' criticism of his huge size and ungainly feet. "I knew I had bad feet. I didn't have to be told that!" the illusionist smiled to OK!. He's looking forward to spending time with his kids and reading.
Meanwhile, the professional dancers had different opinions about the double elimination, a first for the show in its sixth season. Cheryl Burke, who is training actor Cristian de la Fuente, told OK!, "I'm not used to this double elimination. It sucks. I don't like it. And I don't think it should necessarily be a man and a woman eliminated. It should be the bottom two -- it doesn't matter if it's two women or two men."
But dancer Derek Hough, who's teamed with actress Shannon Elizabeth, said he's in favor of eliminating two stars on the second week: "I think it's a good idea. It's fair that everybody had a chance to do one week without being eliminated because the first performance show is a big learning curve. This season everybody got a second shot."
By Carole Glines