NEWS
'DWTS' Results Show: The Hoff Eliminated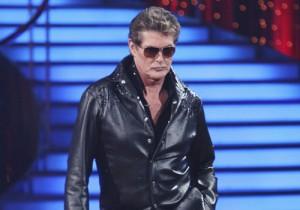 You won't have the Hoff to hassel on Dancing With the Stars anymore. David Hasselhoff, the Baywatch and Knight Rider icon, was eliminated from the hit ABC reality show on Tuesday night after his first dance on Monday failed to impress.
The star only received a score of 15 out of 30 for his cha cha with partner Kym Johnson and judge Bruno Tonioli dissed him, saying his performance was "insanity disguised as dance." David tied for last place in the judging with Mike "The Situation" Sorrentino and comedian Margaret Cho also getting a 15. But viewers decided it was the Hoff who would be history.
Article continues below advertisement
When asked why he was doing DWTS, David, 58, had told OK!, "I ask myself that question every day. My weakness is just not having that natural dance talent. And I'm not good with pain. I'm a little worried about the joints and knees."
But he had a positive attitude before the competition began, saying, "the show is about strapping on your dance partner and jumping out of an airplane and hanging on and hopefully, the chute will open and you'll go on to the next round."
Sadly, for David, it wasn't to be, despite daughters Hayley and Taylor Ann Hasselhoff, who told him to do the show, cheering him on in the audience.
After the elimination show Tuesday night, David's loyal dance pro Kym told reporters: "Oh, well. Obviously we got bad scores last night. We were down at the bottom. But that's just the nature of the show. You never know. He was really fine about it. He's got such a great outlook on life. He's like, I enjoyed the experience and now it's on to the next thing. He's doing his live show in Laughlin."
Article continues below advertisement
Kym gushed, "He's an American legend. I really had a great time teaching him."
The Situation, who had befriended the Hoff, was sorry to see him go.
"Me and Hoff were mad cool. When the Hoff left, I felt bad."
Meanwhile, Mike, with partner Karina Smirnoff by his side, said of his own performance of the cha cha, which was roundly criticized by the judges, "I was upset. I was like, wow, I thought I did good. And I landed the jump and everything. That was the first time I had accepted humility and smiled and I walked away and didn't say anything. When I got home, a lot of fans on Facebook and Twitter were like, you were awesome. So I appreciate that. I'm really looking forward to putting in the work. I'm willing to try different costumes. I'm willing to shave my head and try different haircuts. I'm willing to play that role."
The Situation and Karina have plenty of chemistry, but they deny a romance.
Mike said, "We look really good together and we'd probably have cute kids, too, but you know what, I'm pretty sure she has a boyfriend. Unless something happens with that, I'll be respectful."
Karina recently confirmed to OK! that she was "very happy" in her relationship with baseball player Brad Penney.
Article continues below advertisement
Mike and Karina and the rest of the cast are relieved to move on to next week.
Bristol Palin said backstage after experiencing her first elimination show with partner Mark Ballas, "I was really nervous, standing up there waiting to hear if we got through or not."
Bristol confided that she had re-watched her Monday night cha cha performance, and Mark laughed, "I watched it five times. She looked hot and she was sexy and shaking it." Bristol said, "I was like oh my gosh. I'd never seen myself on TV so I was nervous but I thought it was a fun performance."
Bristol said of her famous politico mom, Sarah Palin, "she text messaged me — she just said, we're so proud of you, congratulations, it looked like you were having fun."
Next week, Bristol and Mark will do the quick step and they're going to train a few days this week in her hometown of Alaska. "I'm looking forward to a dance that's more proper and sturdy and not having to shake my hips again," she smiled.
Article continues below advertisement
And Brady mom Florence Henderson and her partner Corky Ballas are also going to dance the quickstep. "Of course I'm terrified," the 76-year-old show biz veteran confided. Meanwhile, Margaret Cho and pro Louis Van Amstel revealed that one of his previous partners, Kelly Osbourne, is rooting for them. "She and I were talking all last night and she's like, you're beautiful and you're brilliant. She's helping me. She's such an angel," the comedian said.
Tune in next week to see Margaret and Louis dance the jive and the rest of the remaining couples vie for higher scores and more votes on DWTS!