NEWS
'DWTS' Results Show: Margaret Cho Eliminated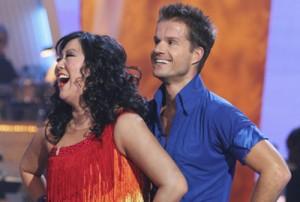 Comedian Margaret Cho was eliminated from Dancing With the Stars on Tuesday night after only scoring an 18 for her samba with partner Louis Van Amstel.
Margaret faltered on the third week of competition when the judges unanimously felt her dance — with its gay pride theme — simply wasn't well executed. On Monday night, judge Len Goodman called her "a little bit heavy in the legs," Carrie Ann Inaba told her, "you lost control," and Bruno Tonioli sighed, "you lost your timing." After getting the lowest score, it was no surprise when it was announced her dancing days were done.
Article continues below advertisement
After the show, Margaret accentuated the positive about her "Copacabana" performance, telling reporters, "I'm so proud of our dance and proud of our message and proud we got to do it. I'm just so excited that we got to wear the rainbow colors and got to represent and dance about pride. And, to me, that's so important."
The funny woman, 41, has no regrets and said she was honored to have been asked to appear on DWTS and "to be in the company of such amazing dancers and people. I had a great time and I'm going to miss it."
She said she enjoyed her flamboyant rainbow-colored gown so much "I'm keeping it!"
Margaret, who has often talked about her past weight issues, said training for the show toned her up. And she confided her trim and healthy partner, Louis, "has really shown me I want to be physically active. He's shown me this direction in my life that I'm going to hang on to forever." In fact, she plans to take Louis' popular dance/cardio class in L.A. from now on.
Article continues below advertisement
However, she also has a lot of comedy concert dates lined up and is on tour until mid-December. And, of course, she'll include some new material: "I'm going to talk a lot about Dancing With the Stars, drilling everyone a new one. It's going to be fierce."
Louis wished they could have "finished off the journey, to show America more sides and her growth. We're going to do it as friends but it's just a shame."
Bristol Palin and Mark Ballas, who were the second lowest scoring couple, having received a 19 for their foxtrot, were in the bottom two with Margaret and Louis on Tuesday.
Backstage, Bristol told reporters the experience of facing possible elimination "was extremely nerve-wracking. My heart was pounding, my hands were sweating, I could feel him breathing."
Article continues below advertisement
Now that they've survived, Mark said his goal "is to try and bring out the emotional side of Bristol and get her acting more and telling the story more because that was the weakness the judges feel needs to be improved on. We're definitely going to attack that this week."
Bristol agreed: "It's just all mental and I've just got to build up the confidence and put myself out there even more."
When asked what she can think about while she's dancing to bring out emotion, Mark interjected, "we have the rumba next week, which is a sexy dance, so she's just going to think about me." He added with a laugh, "I'm kidding!" The couple was so serious about improving that they went immediately from the ballroom to a Tuesday night rehearsal session.
Article continues below advertisement
Meanwhile, Rick Fox and partner Cheryl Burke were embarrassed on live TV when they erroneously thought they'd been called "safe" instead of "in jeopardy." Cheryl and Rick started to celebrate before realizing the mistake. "I seriously could not hear," Cheryl explained backstage about host Brooke Burke and Tom Bergeron's announcement. She was confused because "they said our names with such excitement. That was the most embarrassing moment I think I've had in my entire life. I feel so stupid. I'm never going to watch THIS show back." The veteran DWTS pro said it was the "first time in ten seasons" that she'd ever made such a gaffe.
Luckily for Rick and Cheryl, though, they ultimately WERE called safe — and now they're on to the next round. Tune in next week to see the remaining nine couples continue their competition for the disco ball trophy.