NEWS
DWTS' TED MCGINLEY SPEAKS!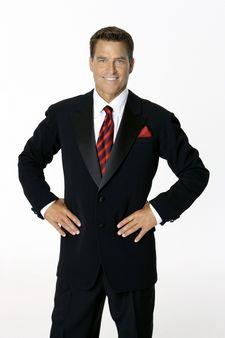 (In honor of my birthday week -- the big day is Friday -- I'm celebrating with five days of TV hunks. Enjoy!)
Dancing with the Stars returns tonight!
No one is more excited to get to the dance floor than Ted McGinley, even though he admits his moves may be more a train wreck than cha-cha.
"I think watching me is going to be like driving on the freeway, and you see that accident and you think, 'I just got to look, even though I know I shouldn't.'"
Article continues below advertisement
So how did the Married with Children alum even make his way to the competitor's ring?
Blame it on his annual retreat with his golfing buddies.
"ABC called and asked if I wanted to do it, and I said, 'Nah, I don't know how to dance,'" he admits. "Then I talked to these guys and they said I was out of my mind if I didn't do it. They watch the show."
Realizing just how intense the competition could be, Ted decided to take the plunge.
"I was just sitting around and coaching my kids in sports, so I thought why not go out of my comfort zone," he says.
Just how tough is it?
"The only thing I can say for certain is that I will never master anything in the dance world," he jokes.
"It's coming slowly because I dance like an athlete. But I'm the kind of guy that will work hard for anything. That's my promise to myself."
That's the spirit! Ted gives props to his professional partner Inna Brayer who's making her DWTS debut this season. ?
"She's young, 21, from Bensonhurst, Brooklyn, and this girl can dance," Ted exclaims.
"She's a ball of fire, like a young Franny Drescher, without the annoying laugh."
Seems like Ted is definitely ready for the challenge, but not so much for the sequins.
"I told them 'I'm fine, just give me the shirt, I don't need all the sparkles,'" he laughs.
He's saving those sparks for the dance floor!
Dancing with the Stars, season seven, premieres Monday, Sept. 22 at 8 p.m. on ABC.