NEWS
DWTS Watch: Aaron Carter Writes a Song for Karina Smirnoff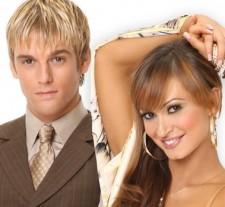 While Dancing with the Stars partners Aaron Carter and Karina Smirnoff have staunchly denied they're in a real—life romance, the singer has added fresh fuel to the relationship rumors — he's written a song dedicated to the ballroom beauty.
Aaron told OK! after the ABC show on Monday night that he soon plans to release a single, "Dance with Me" which was inspired by Karina.
"I wrote the song about my experience on the show with Karina," he revealed.
Article continues below advertisement
During his interview with OK!, Aaron turned to the DWTS pro to tell her, "The song will forever be dedicated to you. Forever. For the rest of time."
"Because I'm only going to do this show once and it's a special enough experience for me to dedicate something to her for all the hard work she puts in for me, " Aaron, 21, explained to OK!.
"I know she does it for herself, but she puts it in there for me and she's hard on me because she cares about me and it's tough love.
"It's the best way for me to explain it and I'm glad I got it — because I can be able to be like I'm good. Because of my experience with Karina, I'm going to hold my head up and be proud."
It sounds like the pop star is crushing on the 31—year—old. "She's going to be featured in the music video," he gushed to OK!, "What I want to do in the video is basically say, 'I'm dancing with the star'. The point is she's going to be the star of the video."
Article continues below advertisement
When OK! pointed out to Karina it's the first time a song has been written about her, exuberant Aaron shouted, "Yay! It's the first!"
The pair face another tense elimination show tomorrow. "It's kind of bittersweet because I don't want it to end," the longtime DWTS pro — who broke up with her fellow dancer fiancé Maks Chmerkovskiy before this season began — said.
"It's been a growing experience for both of us and we've learned so much not only from the show but from each other.
"Having a song about the experience means all the hard work and the emotional roller coaster we've both been through just made us that much closer and stronger together."
But back to the song. Aaron insisted, "I'm going to get her in the studio and make her do the background vocals." As she protested, he turned to her, "do you not want it to be a hit?" You're a starmaker, baby! It is our song. Karina, that song would not exist without you."
And he added to OK! "She's a great singer!"
Will Aaron be able to say "Dance with Me" to Karina after tomorrow night? Tune in to DWTS on Tuesday to see if the couple gets voted through to the next round.
By Carole Glines