NEWS
DWTS Watch: Aaron's Back with a Vengeance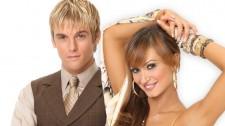 He's baaack! Aaron Carter, who had been one of the early front-runners on Dancing with the Stars this season until a series of subpar performances had him fighting for survival, jived his way back to the top with partner Karina Smirnoff on Monday night. The singer got a score of 29 out of 30 for his jive, including two tens from judges Len Goodman and Bruno Tonioli.
Aaron's performance was the highlight as the magnificent seven couples took the floor on the seventh week of DWTS. And all were trying to stay out of the dreaded bottom two this week, as they are facing another double elimination ceremony on Tuesday. The celebrities performed one individual dance and one team dance, hoping to strut their stuff in both.
Article continues below advertisement
The biggest drama concerned Iron Chef star Mark Dacascos, whose partner Lacey Schwimmer was felled by the flu this week. Illness has taken a toll on the dancers, as pros Derek Hough and Mark Ballas also had come down with the flu earlier this season.
Derek's case was so bad that Maks Chmerkovskiy had to step in and dance with his partner Joanna Krupa two weeks ago. And before she was eliminated last week, Mark's partner, actress Melissa Joan Hart, also complained of flu-like symptoms.
Pro Anna Trebunskaya — who was eliminated earlier this season with her partner Chuck Liddell — danced with Mark in place of Lacey this week but unfortunately, the new couple's samba failed to delight the judges and only received a 19, with Carrie Ann Inaba saying bluntly of the dance, "it's a mess!"
Strangely, both Aaron and Mark were media shy after the show, but Joanna Krupa and her partner Derek were happy to talk about yet another strong outing. They sizzled in their talked-about mambo last week, and this week, they earned a score of 27 for the rumba, a much-different dance. "I was happy when it was over. I was so nervous because it's such a slow dance and so controlled," the model told OK! backstage. "I'm a really tough critic when it comes to myself."
Article continues below advertisement
But the couple scored with the dance and comic relief, too, as a clip that aired on the show depicted Derek's faux fantasy of having a real life romance with Joanna. Of course, as OK! has reported, the model is happily engaged to club owner Romain Zago, but she IS going to be the fantasy object of thousands of men once her December Playboy pictorial comes out.
"It's semi-nude, artistic, classy," she explained. "I think it's going to bring Playboy to a higher level. It's really artistic. Playboy has their specific way of shooting—this is a little more high fashion, a little more like old Hollywood, in a way." But when pressed for the nudity details, Joanna revealed, "You'll see my breasts and a little bit of my bum."
The supermodel said she'd posed for Playboy before, in 2005, "and they approached me again a few months ago. I actually did it before I knew I was doing Dancing with the Stars. I'm very proud of it." Her only regret? Joanna said Playboy fans will see her pre-dance body. "It would have been nice to wait a little bit now that I'm nice and lean and toned," she admitted.
Meanwhile, singer Mya and Dmitry Chaplin, who have been the model of consistency all season, scored a solid 25 for their foxtrot, with judge Len complaining about their "gimmicks.' Carrie Ann was astonished, saying, "Len is officially smoking crack. I loved it!"
Article continues below advertisement
Mya told OK! backstage after the show about her glamorous Hollywood-inspired routine, "I had a ball. I thought I was someone else." Dmitry revealed, "Mya had a huge input into the routine. It was perfect." Mya was gracious about Len's criticism, saying, "He just wants more precision and perfection."
The couple also revealed Dmitry had a bout of flu, but concealed the illness last week. "He didn't want me to dance with Maks!" Mya laughed of Chmerkovskiy, the go-to DWTS substitute. Mya said to stave off any further problems, "we both got B-12 shots. It definitely helps."
Donny Osmond and Kym Johnson garnered a 24 for their quickstep, as the singing icon also seemed to be coming down with, you guessed it, the flu! (see Kym's latest OK! blog for more).
The judges dinged him for some visible mistakes in the routine but highly praised his overall showmanship. Although still trying to fight off illness, plucky Donny's spirits were high after the show and he told OK! his dance was "so exciting."
Article continues below advertisement
Rehearsal tears and meltdowns turned to smiles for Kelly Osbourne, who got a 24 for her salsa with partner Louis Van Amstel. Kelly, whose apparent lack of confidence has been criticized by the judges all season, changed their minds, with judge Len saying it was the first time she'd controlled her nerves.
After the show, Kelly told OK! "I felt amazing, on top of the world. It's exactly what they wanted them to say and they said it. I was feeling like I was having World War 3 in my head and I won. For the past 12 weeks, I've been like, you can do it. No you can't. You can do it. No you can't, no you can't, no you can't, no you can't. Finally, it was like, f--- this! You can do it! And I did and it felt great but it was still a bit weird. It became more fun than I can ever imagine this show being."
For once, football star Michael Irvin and his pro Anna Demidova didn't score the lowest — and, in fact, they got judges' raves and their highest score ever with a 23 for their foxtrot. A jubilant Michael told OK! backstage, "we are happy. Progress is always great, especially when you've been putting in the hours we have. We do crazy hours."
The gridiron great said the foxtrot was a dream: "just to be a big guy like I am and to be able to move across the floor gracefully—that's an accomplishment. They called me a tank a couple of weeks ago!"
Article continues below advertisement
Anna confided she and Michael are avoiding the flu bug by "taking some preventative medicine, they're made out of herbs. He doesn't want to take them but I made him." Michael smiled, "it's continuing to work!"
In the group dances, Team Tango, consisting of Kelly and Louis, Donny and Kym, and Derek and Joanna, triumphed with a 28 while Team Paso Doble, made up of the other four couples — Mark and Anna, Aaron and Karina, Mya and Dmitry, and Michael and Anna, lagged behind, getting only 24.
Who will stay and who will go? Tune in tomorrow for another wrenching double elimination, which will whittle the cast down to just five couples!
By Carole Glines