NEWS
DWTS Watch: All Eyes on Shawn Johnson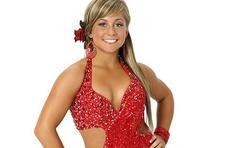 On Monday night's Dancing with the Stars, all eyes were on the show's youngest-ever contestant, gymnast Shawn Johnson , who proved to be unflappable after her terrifying stalker situation was revealed last week.
The Olympic medalist stuck all her landings on a Lindy Hop with partner Mark Ballas that was full of gymnastics tricks and earned a score of 25 out of 30.
"I had a great time," the always-smiling Shawn told OK! after performing her routine. "This is probably my favorite dance that we've done so far. I just went out there and took a chance and had a blast so that's all that matters."
Article continues below advertisement
And in spite of the recent stalker drama, the 17-year-old declared, "I'm having the time of my life. My whole life has been gymnastics so this is the first opportunity I've had to do something else and I love it."
Although the judges marked her down slightly, saying there were too many tricks and not enough dancing, Mark said people had been asking him and Shawn to throw in her signature gymnastics' moves since the show began.
"They said, 'When are you going to do it, when are you going to do it?' And this is the only dance in which we could have done it," he explained. "I definitely feel like we danced enough. I don't think she was heavy-footed at all. She didn't miss a beat."
MORE PICS OF SHAWN & MARK:
Shawn and Mark might not have missed a beat, but it was actor Gilles Marini, with partner Cheryl Burke, who received the season's first perfect score of 30 for their dramatic Argentine Tango, while former Bachelor gal Melissa Rycroft and Tony Dovolani continued to impress with thei energetic Lindy Hop, earning a near-perfect 29.
Article continues below advertisement
"Wow. It's so much work," Gilles told OK! after the show. "From Wednesday to Saturday, rehearsing was hard. It can be a beautiful dance, but I thought, can I do it?" The answer was a resounding "Yes!"
Meanwhile, Melissa talked to OK! about her high-scoring performance. "Every time we nailed a trick, I got more and more excited," she recalled. "To come out tonight and hit it 100%, it's a really good feeling. I think my face kind of said it all — shock, excitement, relief."
Melissa also revealed her post-show de-stressing routine. "I go eat with family and friends, go home early. I've done really well with my sleep this week. This is the most aerobic exercise I've had in years so I go home and conk out."
Controversial rapper Lil Kim was pleased with her Argentine tango, which got a score of 27. "I was in my zone," she said to OK! after the show.
On the optimistic front, rodeo champ Ty Murray told OK! he felt he and partner Chelsie Hightower are "getting better every week." The pair danced away with an impressive 25 for their Lindy Hop.
Article continues below advertisement
Real-life lovebirds Chuck Wicks and Julianne Hough Lindy-Hopped their way to a 22. "Hopefully the fans will keep us in," country singer Chuck said.
The boyfriend/girlfriend team isn't engaged yet, but Julianne joked backstage about getting married, "Well, we're going to Vegas this week…for the American Country Music Awards."
In danger of elimination once more is computer guru Steve Wozniak, who only managed to eke out a score of 12 on Monday night for his Argentine tango with partner Karina Smirnoff. In one of his most brutal criticisms of the season, judge Bruno Tonioli said it "stunk," but the Wizard of Woz said, "Karina told me about a book called The Secret. Where what you believe is where you're going to get to. We're always upbeat — and continuing!"
Holly Madison, whose Argentine Tango scored a measly 16 for her and pro partner Dmitry Chaplin, hopes she's not in danger for the show's double elimination tomorrow night. The former Girl Next Door has suffered inflamed muscles around her ribs and said, "It's painful but the least of my worries right now."
Tune in Tuesday night to see the entire cast worry and wonder which two stars must go home.
By Carole Glines