NEWS
DWTS Watch: Brandy & Maks Tango to Top Score; Emotions Run Wild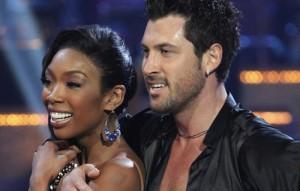 It was an emotional night for the four remaining contestants on Dancing With the Stars. Each contestant was not only required to memorize two routines, but also a small celebrity solo had to be incorporated in the first dance. Brandy and partner Maksim Chmerkovskiy started off the night with a Pasa Doble routine.
The requirement of Dance 1 was a celebrity solo and Brandy's routine was to Katy Perry's "Firework." Judge Bruno Tonioli commented that Brandy was "amazingly passionate," and she received 9s across the board. Afterward Brandy told co-host Brooke Burke that the dance was "dedicated to bullies." And for those who were "coming into your own."
Article continues below advertisement
DWTS RESULTS SHOW: KURT WARNER GETS SENT HOME
Brandy and Maks may have tied for third at the end of the first round; however, they pulled out a perfect score on their second performance.
The singer tangoed so hard that she knocked Maks' earring out! When Brooke asked how hard Brandy was willing to fight, she answered, "as hard as I can." They scored perfect 10s — their first perfect score of the season.
Before each pair danced their second routine of the night, a dramatic package played detailing the troubled times each celebrity fought through to get where they are today. Brandy gave a heartfelt account of the car accident she was involved in where someone was killed.
Brandy's close friend and fellow recording artist Monica (Remember the "Boy is Mine") was in the audience cheering her gal pal on.
Article continues below advertisement
"I was always the sassy one, now you see her saying exactly what she feels, if she wants to cry she cries, laugh she laughs," Monica told reporters of Brandy's growth during DWTS. "This show is great for her professionally and personally."
For Jennifer Grey and Derek Hough's first routine, the duo danced the Cha Cha, and Jennifer certainly had some amazing energy. They received perfect 10s from all judges, after which Jennifer told Brooke that she was, "In love, deeply in love with dancing." Derek commented that she "looked beautiful," and the couple landed in first place for Round 1.
Before the Dirty Dancing star's second performance of the evening, she opened up about her car accident in Ireland with Matthew Broderick, where two people died, as well as her neck injury which she had fixed with metal plates and pins for DWTS.
During Round 2, Jen and Derek danced the waltz and the star was clearly emotional over her video package. The pair received another perfect score. After the dance she ran into the audience to kiss her husband, Clark Gregg. When Brooke spoke to her she was visibly upset, and Derek said he also "got choked up watching the (package) too."
Article continues below advertisement
Bristol Palin and Mark Ballas danced the Pasa Doble during round one to Britney Spears "Gimme More," in a dark, very covering ensemble. The pair received 9s across the board, their highest score so far this season, and tied for third place during Round 1.
The teen mom opened up about her unexpected pregnancy with ex-boyfriend Levi Johnston before dancing the waltz.
During her package mom Sarah Palin said of Bristol's problems, "Doggone it, you might as well dance."
She received a score of 26 out of 30 from the judges landing her at the bottom of the ranks for the seventh time.
Mark announced on the show that he is more proud of Bristol than previous partners he has had.
Article continues below advertisement
"She is not an entertainer, she is the most normal person, sweet, down to earth, just normal person that you would hang out with and I think people at home relate to that," he told reporters last night. "And as a coach she's not an athlete, she's a non-dancer."
Kyle Massey and Lacey Schwimmer danced the samba during Round 1 and Jennifer's pal Jamie Lee Curtis enjoyed the routine so much she gave a vivacious standing ovation. Kyle was hilarious and full of energy as always. Judge Len Goodman commented that he had a "bionic bum," and Bruno said he was a "bouncing bundle of joy." Carrie Ann Inaba said she had "never seen so much pelvic action, ever."
Kyle's sassy samba scored him a 29 out 0f 30, landing in second place.
The young actor's clip before his second performance explained how his mother uprooted her life to L.A. to follow her son's dreams.
He danced an Argentine Tango for his final performance and Bruno called him "Mr. Charisma." He scored his second 29 for the night.
Kyle has remained very calm throughout the season, keeping his thoughts positive.
Article continues below advertisement
"I'm not thinking about next week right now, I'm focused on tomorrow,' he shared with reporters. "Who knows what's gonna happen tomorrow they could send one of the judges home."
Tune in tonight at 9 p.m. on ABC for the week nine results show. Guest performances include Annie Lennox and Enrique Iglesias before another celebrity is eliminated, and the remaining three become one step closer to the coveted mirror ball trophy.
Reporting by Amanda Champagne