NEWS
DWTS Watch: Chuck Wicks & Julianne Hough Go Bye-Bye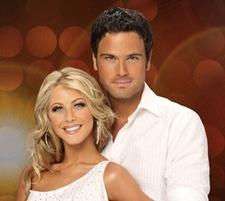 Country singer Chuck Wicks was eliminated on Tuesday's Dancing with the Stars with his real life girlfriend and dance partner Julianne Hough. Sadly, the couple had their last dance just as Chuck seemed to be hitting his stride. They'd scored a solid 26 for their cha cha cha Monday night, but it wasn't enough to keep them in the competition.
Chuck scored in the bottom two with Bachelor babe Melissa Rycroft, who suffered complications from fractured ribs Monday night and had to be judged solely on videotape of her dress rehearsal. She and partner Tony Dovolani had the lowest score this week, a 21 for their jive, but survived.
Article continues below advertisement
"It was kind of strange," Chuck said. "I felt like I was hitting my stride and right when I hit it is when I go home. At least we went out with great scores. I think we made it as far as we were supposed to make it."
"We're sad to leave but we had a great time while we were here," Chuck told OK! after the show. "I had an amazing teacher in Julianne. Not only is she a great talent in anything she does but teaching your boyfriend is not the easiest thing. There were so many ups and downs throughout this process and the fact that our relationship was always up through all of that was a true testament to who we are as a couple. That's the main thing about the competition for us is that we found out a lot about each other."
Is a wedding next for the couple, who both are country singers? They danced to Beyonce's "Put a Ring On It" Monday night. When Chuck was asked if he stopped and thought for a second of putting a real ring on Julianne's finger, they both laughed, "no!"
They might not be quite ready to tie the knot yet, however, Julianne's brother Derek Hough, who is dancing with Lil' Kim this season, said he approves of Chuck. "I even told my dad, 'Wait 'til you see what your future son-in-law is wearing on TV tonight, and he's like, what do you think about that, Derek?' Actually, he's a great guy. He's funny, down-to-earth, and treats my sister good."
Article continues below advertisement
Meanwhile, injured Melissa said her fans are "unbelievable. It's hard to see sometimes where the votes are split and what's going on and today it's a very clear reminder just how much support we do have out there because mathematically, with Chuck and us up there, it should have been us and I think Chuck made a very good point — it just shows how much support there is and when you can actually see that it's an amazing feeling and I think all we can do at this point is just thank everybody so much."
The woman who won America's heart when she was jilted on last season's Bachelor said of her injury, "I'm absolutely better today. Yesterday I was keeled over backstage and so we're finding things that are going to help manage that pain and help us move forward."
Tony said people who voted for them, "saw how much we wanted to be on the floor last night and we couldn't. We were backstage and she said to me, I'm sorry I let you down. I'm like, no, you did NOT let me down. You tried everything you could possibly do. Everything wants to say yes but if your body says no, there's nothing you can do about it. I'm glad we're getting a second chance."
Article continues below advertisement
About the dress rehearsal footage, in which Melissa wore rolled up jeans and a black sports bra, Tony laughed, "My wife said it looked like a scene from Dirty Dancing, me teaching Baby. I thought her abs were rocking, actually!"
Melissa and Tony have to perform two dances next week, The Viennese Waltz and the samba, and she said, "Tony is very good at working around problems. We'll either take it easy or work the choreography around it and we'll be good."
The dance pro said, "this is where my teaching experience comes to hand. Yes, I'm the most mature guy on the show, which means I have a lot more experience as far as the situations I've dealt with. This is where my creativity comes in."
By Carole Glines