NEWS
DWTS Watch: Cloris Brings Up the Rear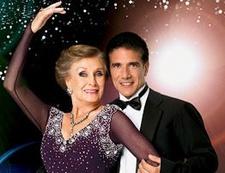 While Brooke Burke and Warren Sapp continue to excel on Dancing With the Stars, Cloris Leachman got the lowest score of the night on the second week performance show.
But 82-year-old Cloris insisted to OK! after the show that she will survive after her paso doble with partner Corky Ballas only earned a 15 from the judges.
"I don't expect to go. I don't think they'll make us go," an upbeat Cloris said. "The voters know how much I want to be on it."
Article continues below advertisement
"We were robbed!" Cloris added. "I think Corky did a wonderful job of choreographing the dance."
But the actress also admitted that not all went as planned at the end of their dance. "He said, 'lie down, lie down!'" Cloris laughed. "Instead of lying down like I was supposed to, I just sprawled on the floor."
Meanwhile, Brooke (with partner Derek Hough) and Warren (with pro Kym Johnson) tied for the highest score of 24 for their paso dobles.
Susan Lucci rebounded with a strong score of 21 on her rumba with partner Tony Dovolani that him feeling soap opera style chemistry. "I actually got red at one point; she came right to my face," Tony said. "I was like, 'smoochy?' and then I was like, oh, 'we've got to continue dancing.' I had Erica Kane coming at me!" Susan laughed that she might steal him away from DWTS: "I think we could definitely use Tony on All My Children."
Article continues below advertisement
"I feel like the sexiest man alive!" Cody Linley crowed after his rumba with partner Julianne Hough earned a solid 21 from the judges.
Although Maks Chmerkovskiy seemed to bring his partner Misty May-Treanor to tears during rehearsal, the volleyball player it wasn't his fault. "I was getting more frustrated with me — why can't I figure this out," explained Misty, who scored a 21 for the paso. "We want the same thing — to be the best and get to the next level."
Lance Bass and partner Lacey Schwimmer got the crowd fired up by kissing at the end of their paso doble. It was all for effect, as Lance is openly gay! But the singer told OK! about the kiss, "It was amazing. I loved it. It brought back lots of memories!"
Maurice Greene and Cheryl Burke got a 19 for their rumba and he said that, though the judges were harsh, he's not brooding about it. "As long as I can please Cheryl, that's the most important thing," Maurice said.
Chef Rocco DiSpirito also shrugged off his low score of 16 in the rumba and didn't seem worried about Tuesday's elimination night. "I'm here to have fun," he said. And the charming cook seems to be enjoying his time with partner Karina Smirnoff. "This is a magnificent woman," he told OK! as Karina beamed beside him.
By Carole Glines