NEWS
DWTS Watch: Cristian Bounces Back!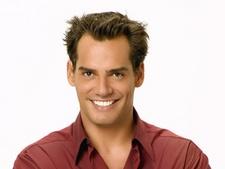 Just one week after suffering an injury many thought would end his dancing days, Cristian de la Fuente surprised everyone by coming back to earn the top score of the night on Monday's Dancing with the Stars.
The Chilean actor decided to stay in the competition last week after he ruptured a tendon of his left bicep. Cristian's doctor told him he could delay having surgery until after the show, but the star would be unable to do lifts with his left arm.
Article continues below advertisement
So it was up to his right arm to do all the lifting of pro partner Cheryl Burke during the tango and the mambo.
"I was a little nervous at the beginning," he admitted to OK! after the show. "We worked really hard this week and at the end, it was the best outcome we could have had. I can't believe it. I'll have to go back home and watch the tape."
The physical setback, which forced him to keep his left arm behind his back during some of the choreography, has actually made Cristian a better dancer. "We fought so hard to get good scores and every week we'd go home with a little bit of a disappointment," he recalled. But not tonight.
But don't think it was as easy as they made it look last night. Cristian and Cheryl revealed that there were lots of problems in rehearsal, however, and they actually took time outs from each other like little kids. "When we both got in a bad mood then we went to separate corners of the dance studio for five minutes," he explained. "There's a lot of frustration so sometimes it's better in 'time out.' But we love each other so much and we're so passionate about this."
Article continues below advertisement
Cheryl disclosed that there were times he dropped her in rehearsals, but "I trust him. He's a strong man."
In fact, the actor is so determined to win the ABC reality show that he said of his wife Angelica, who cheers him on in the audience, "I don't even see her. I get home every night at midnight and leave every morning at eight. I'm rehearsing all day."
Fellow competitor Jason Taylor told OK! "He danced his butt off. He should try both arms behind his back. It's amazing what he did."