NEWS
DWTS Watch: Denise Richards Voted Off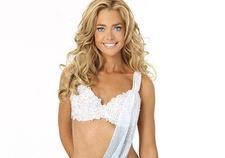 In a Dancing with the Stars shocker, Denise Richards was eliminated from the hit ABC reality show on Tuesday night.
While the show's two injured Steves — Jackass star Steve-O and computer wizard Steve Wozniak — earned lower scores than the actress and reality star, they were saved and Denise went home.
But readers of OK! shouldn't be too surprised about the outcome. As we recently reported, insiders felt Denise faced a likeability problem because of her bad girl image — which included public outbursts against ex-husband Charlie Sheen and foul language on her E! reality show It's Complicated.
Article continues below advertisement
Denise, who was in the bottom two with Holly Madison, did better than the Girl Next Door in the "dance-off," scoring a 20 to Holly's 18 in the samba. But it wasn't enough.
After the show, with her partner Maksim Chmerkovskiy by her side, Denise told OK! "I'm bummed. Obviously I didn't want to go. I love this show so much. But things happen for a reason and it is what it is and I'm happy for everyone else."
Denise felt she went out on a high note, improving her performance from Monday night during the show's dance off. "The audience response was so great. At least we went out with that."
The actress doesn't need a job — she's already working on the second season of It's Complicated. As before, Denise told OK! her reality show will cover "career, family, friends. I think we're going to have a really strong season."
Article continues below advertisement
Sam and Lola, her two daughters from her marriage to Sheen, will be part of the show again "They were in it very little so it will be the same this season. They love the crew. The people with the snacks are who they like!"
Meanwhile, an ecstatic Karina Smirnoff and her partner, Steve Wozniak, celebrated being able to dance again next week despite their abysmal score of ten (the lowest on the show in six seasons). "I'm very happy about our next dance, the Argentine tango," Steve said. "I want to get going on it right away!"
Karina was sad her fiancée, Maks, was eliminated from the show along with his partner Denise. "But if I look at it from the selfish side a little bit, now I get Maks to help us out," she said.
"I'll be honest — last night I was so worried about us going home that all my votes were for Steve and I," Karina admitted. "So I kind of feel guilty that I didn't vote for Maks and Denise."
But Karina thinks there could be a silver lining in the cloud. "Now that Maks is going to have a little bit more free time than me, I think he's going to plan our wedding. I'll be the breadwinner in the family!" she giggled.
Denise marveled, "Who would have thought Steve and Karina would still be in? I'm happy for them."
Loyal Maks told everyone who would listen backstage, "Vote for Steve and Karina!" While Karina is hopeful he's now going to spend time planning their wedding, the hunky Ukranian put that talk to rest: "Maks planned the engagement. Maks is not planning anything else."
By Carole Glines