NEWS
DWTS Watch: Donny Dances Off with Mirror Ball!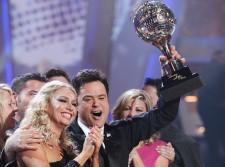 Last night on Dancing with the Stars, Donny Osmond became the latest celebrity to tango, waltz and jitterbug his way to victory on the hit ABC show. After 10 weeks of vying for the top spot, he finally caught up to the show's longtime front runner, Mya, taking home the mirror ball trophy with pro partner and OK! blogger Kym Johnson, while Kelly Osbourne, whose DWTS journey from wild child to dancing lady charmed America, finished third.
Article continues below advertisement
"We did it," a dazed Donny, 51, told OK! after the show. "We did it! The fans pulled us through — and a lot of hard work and perseverance."
The singer joked about the mirror ball trophy, "I might just put it at the top of my house with a spotlight so all Utah can see it. A rotating beacon!"
Donny, whose sister Marie Osmond finished third on the show two years ago, got teary-eyed as he discussed his DWTS win.
"There are things I'll never forget — when Tom Bergeron mentioned our names first, the look on Kym's face, when I grabbed my wife, brought her out and kissed her, and when I brought Marie out to let her hold the trophy."
On Tuesday night's show — which also featured exhibition performances from the entire season's cast of 16 couples — the three finalists performed their favorite dance of the season, and were given rankings by the judges. Donny's perfect 30 score for his Argentine tango redo tied him with Mya at 115 points for their four dances over Monday and Tuesday nights.
Article continues below advertisement
And Donny admitted drawing even gave him hope he had a shot to take it all. "I thought maybe there's a chance because obviously Mya is an amazing dancer."
But Kym, who celebrated her first win on the show after two previous second-place finishes, felt their Monday night Broadway-inspired freestyle "was our breakthrough performance. It was a great time for us to have a breakthrough performance. It all just came together in the end. I was in tears. I'm so proud of what Donny's achieved. We've been through a roller coaster ride. It wasn't just all smooth sailing and just seeing how he comes back from hard times is incredible. He's an amazing man. I've had such a great season." Kym is now going on to star on Broadway in Burn the Floor, starting Nov. 27.
Donny, of course, will continue to do his hit stage show in Las Vegas at the Flamingo with Marie — and he said he was going to put one of his DWTS costumes in the lobby, as Marie has done.
Meanwhile, Mya and her partner Dmitry Chaplin claimed to be happy with their second-place finish. "I feel great," she said. "Relieved, exhausted, so sleepy but I'm so happy. We've come so far. What the meaning behind this is birthing something, creating something from nothing and bringing it to life and sharing it with so many people who are interested. This has been an incredible, fascinating experience. It's unlike anything else I've ever done." She was gracious to the winner, saying, "Donny deserves this."
Article continues below advertisement
After celebrating Thanksgiving with her family, Mya, 31, expects to go back to the studio and record some new music soon. The "Lady Marmalade" singer also wants to do pursue acting, but was keeping mum about any specific projects.
Her loyal pro, Dmitry, said he adored their partnership: "Crazy training, no breaks — not a single fight." When asked if they were dating, however, both laughed it off, with Dmitry saying, "no!" and Mya adding, "when would we have time for that?"
Kelly and Louis, who got third place, were simply delighted to have made it into the finals. Kelly, whose entire Osbourne family and fiancé, model Luke Worrall, sat in the audience, told OK! after the show, "Everyone keeps coming up to me, are you okay? Are you okay? I'm like, I never f**king thought I was going to win, anyway! I'm on top of the world. I was in the final! This is amazing."
The former reality show star said, "I will say my only disappointment this whole show would be that during the final, I was always in the bottom and I love the judges, I respect them, but I do think I was unfairly judged with my tango. To tell me over and over again, you're amazing, you're incredible, you're a revelation and then always be in the bottom kind of sucked. But when you think about what I gained from this, what I learned about myself. I never thought I would be here.
Article continues below advertisement
"And for Donny, I'm so happy he won because he worked so hard—he was in Vegas doing his show, he was coming here, I'm 25 years old. With the greatest respect , Donny is a lot older than me. This was his last big hurrah. I am so glad that he won," Kelly said.
Louis, who was shown in tears during the finale, explained backstage, "I made her cry so much during the season and at the same time, I'm soaking it all in and pushing and pushing and then to see it grow and grow and I was just reflecting. It got to me. It's like a movie with a happy ending."
As OKmagazine.com previously reported, Kelly and Louis are soon heading off on a couples vacation together, with the star bringing her fiancé, Luke, and the pro dancer his partner. Kelly has said they will relax at a warm weather destination, and Louis smiled on Tuesday night of the getaway, "it's booked."
Kelly got a sense of self esteem out of her DWTS journey — and she also lost 20 pounds. She confided she's learned another way of looking slim — the show's famous spray tans! "Whenever I'm having a fat day I'll just go get a spray tan," she laughed. "Confidence booster!"