NEWS
DWTS Watch: End of the Road for Susan Lucci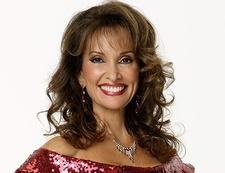 Get out your hankies – Susan Lucci's soap opera like turn on Dancing With the Stars is over.
The All My Children icon – who battled a foot injury and shared her tears and fears during the hit ABC reality show – was eliminated with partner Tony Dovolani on Wednesday night.
"I feel fine. I truly do," TV's Erica Kane told OK! backstage after her ouster. "I had a feeling it might be me tonight and I couldn't think of a better time to go. I had a wonderful experience and Monday night I got to dance this breathtaking paso doble with Tony. The audience was on its feet, we danced Zorro and Esperanza. This is the best time to go."
Article continues below advertisement
Susan, 61, suffered a fractured left foot during the third week of the competition, but it wasn't diagnosed until two weeks later, when doctors gave her the go-ahead to continue in the competition.
During Monday night's show, the actress was shown crying in frustration during a tense rehearsal with Tony. But, like her soap character, she rose above the trials and tribulations. She said, "I definitely got out of the show what I wanted to achieve, and more. I wanted to dance and push the envelope for myself and get out of my comfort zone, which I do from time to time. I love to do that. I wanted to get past a certain shyness in me about performing in a way that I'm not used to in a new genre. I began to break through that – and it makes me happy."
Tony said he's delighted at the way Susan handled the experience: "doing two jobs and being able to fly back and forth from L.A. to All My Children in New York City. I want to thank her husband Helmut for helping us through this."
Helmut, who has watched Susan from the audience during every show, told OK! "I'm so proud of her. She did terrific. She has a lot of stamina to do all this. I gave her support. I think she's going to show me some dance moves. Now it's my turn to learn!"
Article continues below advertisement
Waiting under the red elimination night wasn't such a trial for Susan. "I do have some experience waiting for my name to be called," laughed the star, who famously lost at the Daytime Emmys for 18 years before finally taking home the trophy in 1999.
Susan now goes back to her day (time) job with some new skills under her tiny belt—"I hope we see Erica Kane dance on the show," she smiled. "I think the fans would love to see Erica Kane learn how to dance from this gorgeous Tony Dovolani."
Meanwhile, Tony, who has already done a guest shot on AMC, now will have more time to be with his wife and their twins, daughter Ariana and son Adrian, who were born in September.
By Carole Glines