NEWS
DWTS Watch: The Final Three Compete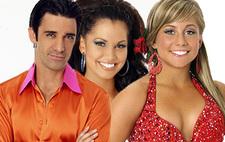 Olympic gymnast Shawn Johnson looked like she was winning the gold medal on Monday night's Dancing with the Stars season finale, as she turned in the most dynamic dance of the season with a freestyle routine that played to all her strengths and overshadowed rival celeb competitors Gilles Marini and Melissa Rycroft.
Although Shawn's combined score of 58 for her two dances tied her with Gilles, she was the talk of the night for her high-energy freestyle dance. She earned a perfect 30 from the judges for the routine, which featured cartwheels and other incredible tricks — and had judge Bruno Tonioli on his feet. "It was an explosive performance," he said in praising the 17-year-old cutie, who dances with pro Mark Ballas.
Article continues below advertisement
"I felt amazing!" an excited Shawn told OK! after the show. "The freestyle was by far my favorite dance and I just really let loose and had a great time and held nothing back. I've learned I can be more than a gymnast."
Mark said, "I definitely feel if you watched the whole season from start to finish that Shawn is the most improved. Her little face tonight, her personality — I could just feel it dancing next to her. I'm so proud of her and so grateful to all the fans."
The final three stars started the night by doing a paso doble face-off, with each couple performing one after the other, and beginning and ending the dance as a group. Judge Carrie Ann Inaba declared, "You're all incredible." Gilles earned a perfect 30, Melissa a 29, and Shawn a 28 for the paso.
But it's always the freestyle routines that the audience looks forward to the most.
Gilles, who received a score of 28 for his freestyle, faced criticism by two of the judges. While Len Goodman said it was "slick" and "high energy," Carrie Ann called his Flashdance-inspired routine "an odd choice," because the original movie featured a female dancer, and Bruno thought it lacked content, sighing, "I wanted more actual dancing."
Article continues below advertisement
Backstage, the Sex and the City actor told OK!, "It went really well. We had one perfect score and we did pretty good on the other dance. Having those scores? I love it!"
His partner, two-time DWTS champion Cheryl Burke, said they have no idea what their chances are of taking home the trophy Tuesday night.
Gilles confided even after all this time, "We don't know what our fan base is. Shawn? American hero, gold medalist, young, cute little thing. Who am I? A French born guy, older. Hopefully we've made people happy with what they've seen."
Gilles, who wore a ripped tee shirt that displayed his buff chest for the freestyle, said "my son Georges loves it. I have to bring it home. He thinks a tiger was backstage and tore it apart."
Meanwhile, Melissa Rycroft — who shot to fame after she was jilted on another ABC reality show, The Bachelor — and her partner Tony Dovolani also got some negative judging for their freestyle, which scored a 27. Of the hip-hop routine, Len said, "I don't get it" and Bruno called it "a bit disjointed."
Article continues below advertisement
Still, although she's in third place with a cumulative 56, Melissa was characteristically upbeat after the show, telling OK!, "I'm happy. I thought we went out and rapped it. We had a great time out there. The music was fun, the audience was great. We were confident with everything."
Tony added, "I had a blast. For me, it was an emotional night because I wanted to make sure on her last episode, she had the biggest smile on her face and that's exactly what we did. We didn't dance for the judges tonight — We danced for the fans that pulled us through, even with the hurdles we had."
The dancing pro was referring to Melissa's fractured ribs three weeks ago, which caused her to be unable to perform live. She was judged on her dress rehearsal and managed to survive elimination and then make it to the finale.
Tony himself suffered an eye injury during a freestyle rehearsal this week when Melissa accidentally hit him.
Melissa said her rib injury is "probably not 100 percent" healed yet. "But it's the finale. You got to do it."
Tomorrow night, the competitors perform only for the judges' scores and then the winner is announced. Who will walk off with the disco ball trophy? It's anyone's guess in the most wide-open DWTS contest for the past few seasons.
By Carole Glines