NEWS
DWTS Watch: Gilles & Melissa Sparkle While Steve-O Stumbles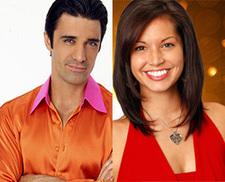 While injuries continue to plague their competitors, hunky Sex and the City actor Gilles Marini and recently jilted Bachelor babe Melissa Rycroft sparkled once more as the latest season of Dancing with the Stars tangoed its way into a second week.
As OKmagazine.com previously reported, Jackass star Steve-O couldn't perform on Monday night's show after suffering a back injury. That follows Jewel and Nancy O'Dell pulling out of the competition before it even started. For the record, Steve-O's salsa — or rather, a videotaped dress rehearsal of the dance — received a 14, the lowest score of the night.
Article continues below advertisement
After the show, the other stars and professional dancers were trying to explain the recent rash of dancing-related woes.
"I think people are just rehearsing too hard and making their choreography too hard for themselves," longtime DWTS pro Cheryl Burke, who dances with Gilles, told OK!. "You can do tricks but I think everything needs to be toned down. The hours that you put in need to be less. Dance is a sport and these are celebrities who have never done it before. Even Steve-O, who's done every stunt in the world — ballroom dancing has injured him. He probably put in too many hours and tricks."
Dancer Jonathan Roberts, who is partnered with Belinda Carlisle this season and guided her to an 18 in salsa, sighed about his beloved DWTS, "This is a bad start so far. I think people are trying harder because it's a big deal to win."
Steve Wozniak, who himself is still dancing on an injury to his left foot, revealed to OK! that he developed a surprising friendship with Steve-O. "I want to go see him," Woz said about the Jackass star's injury. "I am so hurt. He and I were the closest friends of the whole batch here. They were trying to talk him out of doing something even bolder in his dance and this morning, I was the only one he would listen to. We became pals the first day and I can't explain it. I don't watch his TV show but I love his smile and oddball answers." Although missing his fellow competitor, the computer wizard got a 17 for his quickstep.
Article continues below advertisement
Ty Murray, who was the most improved dancer from last week—receiving a 20 for his quickstep—said his life as a rodeo star might have already prepared him for the rigors of dancing: "I've had both shoulders and knees reconstructed. I had a plate put in my neck but I'm tough and me and partner Chelsie's Hightower game plan is to be the last two standing."
OK!'S EXCLUSIVE PICS OF DWTS' MAKS & CHERYL:
Meanwhile, the best dancers from last week continued to show their style. Gilles earned the highest score of the night with his quickstep, which got a 27. He told OK! about his triumph, "It was insane. I didn't even know what was going on. I'm very freaked out. It's hard for me to remember choreography but my partner Cheryl is the best."
Second place honors for the second week went to Melissa, who received a 26 for her salsa. The last minute DWTS replacement looks like she's a contender to win after her Bachelor agony. "I'm so proud," she said backstage. "It was all brand new to me. Kudos to partner Tony Dovolani for being patient during my bratty times when I got frustrated with myself but it all paid off."
Article continues below advertisement
Gymnast Shawn Johnson earned a 24 for her salsa routine with partner Mark Ballas, while Lil' Kim and Derek Hough quickstepped to a 23.
Denise Richards, who scored a solid 21 for her graceful quickstep, told OK! she felt much more comfortable about performing her second dance after a flat routine last week with partner Maksim Chmerkovskiy. The It's Complicated reality show star said of the bad press she's received through the years, "It's all bullsh**," and hopes viewers will enjoy watching her try something new. But Charlie Sheen's ex-wife, who has two daughters with the Two and a Half Men star, showed her softer side when talking about the recent birth of his twin boys with current wife Brooke Mueller. "My girls are excited to be big sisters," she smiled.
Tomorrow night, Steve-O is expected to return to the hit ABC show and we'll find out who can stay in the ballroom and who must leave in the season's first elimination.
And, for the first time ever, the bottom two vote-getters will perform a "dance off" to determine who goes home. But with the talent dropping like flies, will a dance off be necessary?