NEWS
DWTS Watch: It's All Over for Lil Kim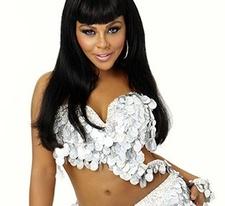 In the most shocking elimination this season, rapper Lil' Kim was voted off Dancing with the Stars on Tuesday night.
Most fans and insiders had been predicting it would be the end of the trail for cowboy Ty Murray, who received the lowest scores among the competitors on Monday night — and who had never really managed to seem comfortable on the dance floor.
And while Kim and partner Derek Hough did earn the second-lowest scores this week, their combined score of 52 was significantly higher than Ty and Chelsie Hightower's total of 46.
Article continues below advertisement
"I'm okay," the rapper told OK! after getting the bad news. "I would love to still be here — Who wouldn't want to make it to the finals? — but at the same time, I still have my other life and I get to go back into the studio. I get to do everything I used to do. It's mixed emotions, I guess!"
The biggest down side to leaving the show? "I'm going to miss my partner," she sighed.
But Derek, who was the partner of last season's champ, Brooke Burke, hugged Kim, saying, "I'm not going nowhere, baby!" And he had nothing but good things to say about Kim: "She's come out here and proven herself so much."
Lil' Kim is now moving on to other projects, including a book due out later this year called The Price of Loyalty. "It's about the time when I stayed in prison, the things I learned and went through," she explained. "You don't think about things until it happens to you. The book is going to give people who have been in those situations a bright outlook on life."
Kim said she's still tinkering around on an album. "I haven't gotten into the studio with the producers that I really want to be in the studio with," she explained. "I just want to get the perfect song and maybe in a couple weeks, release something."
Article continues below advertisement
The singer said she hopes Derek and fellow DWTS pro Karina Smirnoff will help choreograph her concert show, incorporating some ballroom moves.
Gymnast Shawn Johnson, with partner Mark Ballas by her side, said she was "extremely shocked" about Kim's elimination. "Nobody wanted to see her go."
Frontrunner Melissa Rycroft, who got a perfect 30 on Monday night with partner Tony Dovolani, added, "she was so sweet and has a huge heart and the show brought out a side of Lil' Kim that I think a lot of people didn't know was there. Her vulnerable side was shown and she has something about her that's genuine."
The Bachelor beauty was excited to perform the encore dance Tuesday night: "It was so fun today because there was no pressure, no scores, no judges' comments. I think it felt better tonight than it did last night. Our goal is to have the audience smiling with us."
Meanwhile, Ty told OK! about himself and partner Chelsie's unexpected trip to the semifinals. "We feel a little surprised — but we've felt a little surprised every Tuesday for the last nine weeks," he explained. "Each couple on the show has a team behind them in America but nobody knows how big their team is and that makes it fun. Our supporters call themselves 'the cowboy army.' Obviously, we've got a good fan base — cowboys and ranchers and farmers and Western lifestyle."
Actor Gilles Marini, who dances with Cheryl Burke, admitted with a smile that Ty is stiff competition: "You cannot take Ty down. He's so lovable."
Now, the final four competitors — Melissa, Gilles, Shawn, and Ty — go on to next week's semifinals!
By Carole Glines