NEWS
'DWTS' Watch: Jennifer Grey Tangos to the Top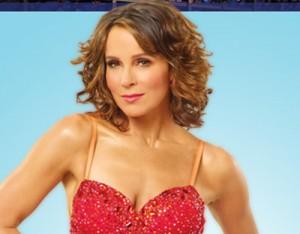 It was a return to form for Jennifer Grey on Monday night's Dancing With the Stars as the actress and her partner Derek Hough blew the competition away with a thrilling Argentine tango.
But Bristol Palin and pro Mark Ballas caused just as big a stir in the ballroom when they did a sexy rumba with her parents Sarah and Todd Palin in the audience. The politician's daughter, who talks to teens about abstinence, had no problem getting sultry in the ballroom with Mark and she took his shirt off during the dance. And in other DWTS drama, look out, Jersey Shore fans — The Situation was breathing fire after he got the lowest scores of the night.
Article continues below advertisement
This week, the judges gave the dancers two scores — one for technical merit and the other for performance. Also creating a challenge for the dancers was a new set. The couples performed on a raised round stage to acoustic music.
While she faltered slightly last week, Jennifer looked like the one to beat again on Monday night. The former Dirty Dancing actress scored 56 out of 60 with the two combined scores. Judge Bruno Tonioli summed it up by saying, "incredible job!" After the show, Jennifer smiled to reporters, "it felt pretty good."
She continued, "I had a really hard time in some of the rehearsals. I really saved it for the performance. I just wanted to do a good job." The 50-year-old, who has a pinched nerve in her foot, confided of doing the show, "It's been a really serious grind. Like this week, I actually had a moment where I was like, 'can I get off of this thing?' " But Jennifer received the first perfect tens of the season as part of her scores, so most likely she'll have to forge on if the voting follows the judging on Tuesday night. "I'm just really happy!" she said.
Article continues below advertisement
The next highest scoring couple was Brandy and Maks Chmerkovskiy, with 48 for their rumba. Judge Len Goodman raved, "Well done!" Brandy told OK! after the show, "I'm very thrilled tonight. I had a good time. Each week I plan to grow and get better."
Hills beauty Audrina Patridge, the highest scorer last week, turned in another strong performance Monday night, getting a 46 for her Argentine tango. She and partner Tony Dovolani were more than satisfied backstage. "I thought she really nailed this tango," Tony said. Audrina admitted of Monday night's challenges, "It was tough. The double-scoring, the round stage. It was more intimidating. It was a lot of pressure in every direction."
Kyle Massey and Lacey Schwimmer looked solid again, getting a 40 for the rumba and hearing judge Bruno tell him, "you're a natural." The Corey in the House actor, 19, revealed to reporters he's had a great side effect from his dancing: "I've lost 16 or 17 pounds. I'm still working at it." He joked of the weight loss, " I'll keep it up for like an hour after the show is done."
Article continues below advertisement
The next highest scoring couple was Rick Fox and Cheryl Burke, who got a total of 39 for their Argentine tango. Bruno compared him to Clark Gable, and indeed, Rick had grown a mustache specifically for the dance. Rick also told OK! backstage, "This is one of the most exciting nights so far. The elements changed—we were on a raised stage. We were doing a hot dance. It was a sexy night in general."
Amazingly, a lot of the sexual heat came from Florence Henderson and Corky Ballas, who earned a 35 for the rumba. Though some might have been surprised by the 76-year-old Brady Bunch mom's dirty dancing — judge Carrie Ann Inaba gasped that it was "raunchy" and "went just a little too far"—Florence was unperturbed backstage. "Even Carol Brady wore sexy nightgowns. And you knew she and Mike Brady were going to have sex when they went to bed," she slyly pointed out to reporters after the show.
Article continues below advertisement
Meanwhile, Kurt Warner and Anna Trebunskaya garnered a 34 for their rumba on the night of the football star's 13th wedding anniversary. "We're going to go out to dinner and spend a little time together," he smiled to OK! about his planned Monday night celebration with his wife. Anna laughed that Kurt would do his sexy routine over again that night, "but this time with the right person."
Bristol and Mark got a 32 for an eyebrow-raising rumba. Though they surprised many in the audience by performing a sexy dance while her parents looked on, the judges seemed to simply think, once again, Bristol didn't show enough character. Judge Bruno sighed that she's too expressionless: "you go vacant." Carrie Ann said, "There's no effort." But when asked by OK! backstage if she felt sexy, Bristol said, "definitely. I felt confident. I took his shirt off. It added to the performance. It was spicy. It was part of the show."
Article continues below advertisement
Bristol claimed she wasn't at all inhibited by her famous parents Sarah and Todd witnessing the dance. "It felt wonderful to have them here. I'm glad they were both able to make it. It was just comforting."
Longtime dance pro Mark told OK! he certainly thought Bristol was sexy. "When she walked out in this dress, I was like, 'giiiirl!' and she was in my face, she was looking at me, she was moving her hips, stretching her arms. I thought the judges were a little rough. I don't know what they want. Bristol's a 19-year-old girl who's never performed in her life. Cut her a break. It's like, pour gasoline on her and light a match. It's rough."
Bristol said, "We want to stay in. I'm definitely most improved throughout this whole thing and hopefully we can continue to show that. It always sucks to get low scores. I know that I'm improving. Mark knows that I'm improving. I'm having fun."
Things weren't so fun for The Situation on Monday night, however, as he brought up the rear with just 28 for his Argentine tango with Karina Smirnoff. Worse, he got a tongue-lashing from the judges. Judge Bruno groaned that their dance was a "terrible mess." Judge Carrie Ann called it a "rough ride," and Len Goodman pronounced it "bad throughout." The Jersey Shore star was shown grimacing about the comments on camera, and he revealed after the judging, "I stormed off. I eventually cooled off."
Article continues below advertisement
OK! VIDEO: AUDRINA HELPS HER DWTS PARTNER GET WAXED
However, he also admitted backstage he was still angry about the bad reviews and pointed out the difficulty of the lifts he did with partner Karina. "I'll be honest with you. I was very upset," he told reporters. "I really tried hard. Those lifts I was doing were extremely difficult. We got it down. They didn't acknowledge any of it and in my mind, first and foremost, was her safety—that she was okay. Even though the judges were trashing me, I just looked at her, she was okay. I was like, you want to trash me, fine. She's okay. That's all that mattered to me."
As Karina showed off her rehearsal bruises, The Situation added, "Were trying really hard. The judges didn't see that, but hopefully America does. It's tough on your pride, mentally and physically because you want to do good. I do my best every time I'm here and if somebody doesn't see that, hey, they didn't see that. And if I get voted off, I will bow gracefully and say, I did my best."
Next week, if they survive elimination, the couples will perform to TV theme songs. Two of the partners revealed their songs to reporters.
Article continues below advertisement
Maks said he and Brandy will perform to the Friends theme song. Incredibly, Brandy admitted, "I've never seen Friends. I wasn't watching much TV" then. No surprise why—she was busy doing her own show Moesha at the time. Kyle and Lacey said they plan to perform a dance to the Charlie's Angels theme song. Florence confided that she "can't imagine that producers would not," give them the Brady Bunch theme song but partner Corky said, "I think we're having a clearance issue, and first we've got to get saved. But it would be nice to dance to that."
Tune in Tuesday night to see if Florence and Corky will get that chance — and if The Situation will be sent back to the Jersey Shore or get another opportunity to continue his ballroom studies in Hollywood!