NEWS
DWTS Watch: Karma Kicks Aaron Carter in the Butt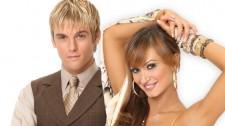 Maybe Aaron Carter should try to keep his foot out of his mouth.
The 21-year-old singer and Dancing with the Stars contestant, who bragged about his odds of winning the show early in the season, was given the old heave-ho last night, along with partner Karina Smirnoff.
Aaron's fifth-place finish means Mya, Joanna Krupa, Kelly Osbourne, and Donny Osmond are all going on to next week's semifinals.
After the show, a somewhat somber but philosophical Aaron told OK! he was feeling "okay" about his ouster. "The journey was amazing. I learned so many things. I've grown so much within myself and I can feel it. This was like a life training boot camp. That's what it felt like. I feel so much better that I've done this. I'm stronger, wiser."
Article continues below advertisement
Aaron said of the grueling schedule, "Physically, I'm tired. But I'm young, I'll bounce back quick!"
The singer said he'll continue to dance: "Of course! Dancing goes hand-in-hand with performing and singing. I'm definitely going to put it in with everything I have and now, I can actually incorporate some ballroom steps in my choreography. I can't wait."
Aaron loved making new friends on the show and particularly bonded with fellow teen idol Donny. "We've been through similar situations, just in different times of generation," he explained. "It was just great having him there to give me the support and be a backbone when I felt like my back was breaking."
His loyal partner Karina said she felt "sad it's the end of the road for us but very proud that we got where we got and Aaron did an amazing job. I couldn't have asked for a better partner this season."
The star faced controversy as DWTS pro — and Karina's former fiancé — Maks Chmerkovskiy blasted him as overconfident. Aaron and Karina also had to deny rumors that their partnership had turned into a real-life romance. While he shone with Karina in a Muppets-themed dance early in the season, Aaron seemed to falter as the competition progressed.
Article continues below advertisement
On Monday night, Aaron and Karina earned scores of 23 for their foxtrot, with judge Bruno Tonioli saying he seemed "tense," and a 27 for their 1990s inspired samba, which caused judge Len Goodman to say, "you sold it!" They wound up with a cumulative score of 50. Unfortunately for Aaron, he was tied for last place with Donny, as Mya, Joanna, and Kelly all scored higher. But Donny's fan base obviously carried him through, and Aaron was odd man out.
Did his candor also get the best of him? Aaron, the youngest in the competition, told hostess Samantha Harris on Monday night's broadcast that he "almost threw up" on camera because he was recovering from the flu, leading to host Tom Bergeron's quip that he was "over-sharing."
Earlier in the season, Aaron was also shown crying on camera. He admitted to OK! Tuesday night, "I've been a crybaby on the floor the whole time. It's okay. This is who I am. I'm not going to ever change but I'll improve myself."
Article continues below advertisement
As OK! reported yesterday, Aaron wrote a song about his experience dancing with Karina. "Dance with Me" will be available today on iTunes. Next month, he's going to shoot the video for the song — with Karina as its star.
He'll continue to stay in shape, going back to combine training, the fitness regimen he was doing before DWTS. "It's what they do to train people for the drafts in professional and college football so I'm going to get myself in incredible shape," Aaron told OK!, "I'm going to bulk up and go back on tour next year and be able to do a two-hour show, live, dancing without running out of breath."
Aaron also plans to continue doing charitable work, for which Los Angeles Mayor Antonio Villaraigosa will be recognizing him this week.
Meanwhile, singer Mya and her pro Dimitry celebrated making it through. "It feels great!" she said. "It's an accomplishment. Now it's the next difficult phase."
Although she looks like the one to beat, Mya said her competitors are tough, like Donny, who's the "ultimate performer on and off the stage." Of Kelly, she remarked, "I'm a fan. She's matured in front of everyone's eyes." And Mya said Joanna "has great lines and a wonderful choreographer—they look great all of the time. This competition is going to be stiff."
Article continues below advertisement
Model Joanna and her partner Derek Hough were jubilant about their spot in the final four. The pro dancer, whose futuristic Paso Doble Monday night broke all boundaries, revealed, "My strategy for next week is going to be back to basics a little bit. I'm not saying it's going to be boring dances, but just quality. Joanna is a dark horse. People didn't expect her to do well."
Joanna said, "I'm so excited! It hasn't settled in yet. It will tonight when I have a drink!"
When asked why things didn't quite come together for Aaron, an early favorite, Derek told OK! "One thing that's hard about this show is consistency. You can't just have just good days. You have to be reasonable each and every week and stay strong." Still, Derek said, "I think he did a fantastic job — final five out of 16 couples."
By Carole Glines