NEWS
DWTS Watch: Lawrence Taylor Gets Sacked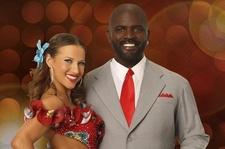 While most Dancing with the Stars contestants are disappointed to be leaving the ballroom, football legend Lawrence Taylor was more than ready to pack up his samba shoes.
Lawrence, who was eliminated Tuesday night on the seventh week of competition, told OK!, "I'm all right with going home. I was stressing every week so I'm happy to have that type of pressure off."
The gridiron great and his partner Edyta Sliwinska couldn't score this week with their waltz — because he helped design her costume, which featured more material than the sexy pro dancer was used to. Edyta wound up with her sleeve wrapped around her head during the dance, and Lawrence admitted Monday night, "It wasn't a great idea." The couple only earned 21 out of 30, the lowest score of the night, while leader Melissa Rycroft got a 29 for her Argentine tango.
Article continues below advertisement
Lawrence also revealed this week's '60s style group number wore him out: "It's not really a lot of fun when you're worrying about your other dance and you've still got five hours to rehearse the group dance. I had stress enough during the week learning my dance so I got double stress learning two dances. But hey, it's what they producers do."
When asked if he had any good times on the hit ABC reality show, Lawrence sighed, "It's a long competition. We've been here 10, 11 weeks. My life is usually not like this. My life is not regimented any more where I have to be somewhere, I have to do this. I pretty much do what I want so this is a little bit different for me and it gets long and tiring. I'm grateful for the chance it gave me but I'm happy to call it a day."
In fact, Lawrence said he probably won't dance ever again: "Dancing is good but there's no practical place I can take it in the world I live in. The only dancing I'm going to do will be dancing around the golf course if I sink a putt or something," the golf enthusiast said.
Lawrence gave his partner all the credit for taking them far into the competition. He said Edyta was "very patient. It always came together. A lot of people were surprised I progressed as far as I did."
Article continues below advertisement
Now the other dancers move on to next week, including Melissa, who is nursing a bruised rib. She didn't speak to print reporters after the show Tuesday night, but her co-star Ty Murray told OK! "she had ice on it and said it was pretty sore. I think all of us are sore in a lot of different places and at this point you've got to suck it up and get tough because everybody is experiencing sore body parts and every week when the dance changes, where you get sore changes."
The remaining contestants have a challenge next week with another group dance in which two teams will compete against each other. Ty's partner, Chelsie Hightower, revealed to OK! they are on Gilles Marini and Lil Kim's team — which means Melissa, Chuck Wicks, and Shawn Johnson will be their opponents.
By Carole Glines