NEWS
DWTS Watch: Melissa Rycroft Rises to the Top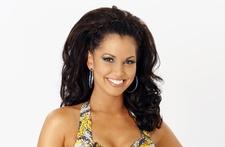 Former Bachelor babe Melissa Rycroft took control of Dancing with the Stars on Monday night with a powerhouse Argentine tango performance that — almost — earned her a perfect score!
After scoring a 29, Melissa and partner Tony Dovolani were all smiles backstage. She told OK! "we had so much fun out there. It feels so good to nail it, to have the audience and judges happy and we're happy. You can't top that."
Article continues below advertisement
The brunette beauty revealed dance is her life now: "I'm up by 7 o'clock and we'll hit practice in the morning and go through the afternoon. Then I go home, jump in the sauna or take a bath and go to bed. Those are my days. I am an exciting girl — wild and crazy!"
Meanwhile, gymnast Shawn Johnson and her pro Mark Ballas came in second place, getting a 28 for their cha cha cha, including a 10 from judge Bruno Tonioli. "It felt amazing," Shawn said. We've been working really hard. When we were backstage, I was just hoping to pull it off and not forget steps. When we went out there, I just had fun and let loose. I've never even gotten a ten in gymnastics, so I was so excited." Shawn, who had just the made trip to NYC and Des Moines, Iowa, to accept athletic awards, admitted she only got about ten hours sleep the entire week!
Sex and the City stud Gilles Marini, who had looked unstoppable a couple of weeks ago, received a 27 for his Viennese waltz with partner Cheryl Burke. "We're going to work even more," Gilles vowed. "America didn't see everything yet. It was disappointing messing up something I never messed up during rehearsal. I was in a mood — very nervous today, sweaty, kind of unhappy. No idea why."
But country singer Chuck Wicks and his dance partner/girlfriend Julianne Hough celebrated their best performance Monday night, receiving a nine from all three judges for a total score of 27 for their sexy samba. Julianne revealed it didn't come easily: "We didn't even know the dance yesterday; I was still teaching him."
Article continues below advertisement
Chuck confided, "I was flipping out. I was a nervous wreck. We stayed up 'til one o'clock in the morning going over and over and over the dance. We were up for 22 hours yesterday. We were exhausted. I thought it was going to be our worst week but something clicked. It came together."
After getting a 26 for her rumba, a step down from her triumph last week, Lil' Kim shrugged, "I feel like I did really good considering the rough week that I had. The dance is not easy so I am so happy." Although the judges criticized Kim for being too subtle instead of sexy as usual, her partner Derek Hough said, "I think the judges were very positive. They said, we want you to be yourself."
Rodeo champ Ty Murray, who had two left feet the past two weeks, rebounded with a solid 24 for his waltz with partner Chelsie Hightower. "We turned it around," Ty crowed. "We feel like we've got a great little army of fans out there who are behind us." Ty admitted to OK! what keeps him calm during rehearsals — the country boy enjoys Copenhagen chewing tobacco every day. "I notice tobacco is not real big in the ballroom," he deadpanned, but said his pro doesn't mind: "Chelsie's accepted me for the cowboy I am."
Article continues below advertisement
This week, the stars helped design their own and their partners' costumes. Football star Lawrence Taylor sighed about choosing to put his partner Edyta Sliwinska in a long flowing gown for their waltz, "It turned out not to be a great idea" because she had a wardrobe malfunction. Edyta, whose sleeve wound up over her head during the dance, admited, "We were a little bit upset." But LT said, "We still were able to salvage a 21 out of it. The judges gave some positive comments." Still, he got the lowest mark, putting him in danger of elimination tomorrow night.
All the stars loved doing the season's first group dance, with its '60s mod theme. And they revealed that the dancers who make it through next week will participate in a team dance. Tomorrow, however, one star must leave the ballroom; tune in to ABC to find out who!
By Carole Glines