NEWS
DWTS Watch: Mya Continues to Roll While Tom DeLay Hobbles On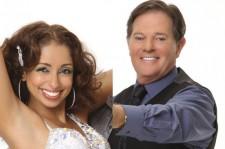 On Monday's Dancing with the Stars performance night, sultry singer Mya was once again a top-scorer while this season's dark horse, former politician Tom DeLay, was responsible for this season's most dramatic moment yet when he performed on two fractured feet!
Incredibly, the 62-year-old conservative Republican samba-ed his way to a score of 15 with partner Cheryl Burke although his injuries were so severe producers had urged him to withdraw from the competition!
Article continues below advertisement
Tom had suffered a pre-stress fracture to his right foot in rehearsals before the show had even begun. Then, this week, his doctor told him it was a full fracture. After rehearsing, Tom's other foot, his left, hurt him and the doctor also diagnosed that one with a stress fracture.
But Tom ignored the producers and Cheryl's advice to quit and performed well. After the show, Tom admitted his feet were "not good," but said he was determined to give it his all and "things worked out. When you're dancing you don't feel the pain." He explained to OK! "I don't know how much longer I'm going to last" in the competition. And the ex-congressman was dancing for his pride, too, because he stumbled badly on last week's tango and was seen grimacing on live TV.
"Last week I thought was a disaster so I wanted to show people I could at least get the steps right. And I grew up in the oil field and my daddy taught me never, ever, ever quit at anything — so until the feet quit, I can't quit."
Tom said Christine, his devoted wife of 42 years, supported his decision: "She knew it was important to me to dance tonight."
Cheryl told OK! "he is one brave man. I've told him plenty of times not to do it but Tom is tough. I don't think I would be able to do that. A stress fracture — I've never had that. You can't dance on two broken feet! The pain Tom is going through is probably outrageous."
Article continues below advertisement
But Tom was buoyed by his gutsy performance — and he continues to lose weight after dropping 20 pounds on DWTS. He showed OK! that his red pants (which he wore with a shirt with a Republican elephant logo) were hanging on him. "They were tailored Saturday and I've lost a half an inch since then."
Meanwhile, Mya continued her stellar performances by earning the highest score of the night of 27 for her rumba, which included two perfect scores of 10 from judges Bruno Tonioli and Carrie Ann Inaba. Mya was in a mood to celebrate: "I'm going to have a big fat steak tonight." Of the dance with partner Dmitry Chaplin, she said, "I don't honestly remember doing it." She was "in the zone."
Close behind them were swimmer Natalie Coughlin and her partner Alec Mazo, whose sexy rumba performance paid off with a 26. Natalie revealed backstage of her daring back bend with her leg extended in the air, "I'm glad I didn't fall over because a couple of times in practice, I would go so far back I would fall right over! That would have killed the entire dance!"
Donny Osmond and partner (and OK! blogger) Kym Johnson delivered a solid rumba with a score of 21.
Article continues below advertisement
But his dance was almost overshadowed by what happened after. When judge Bruno, who is openly gay, told Donny his dance "looked pretty" and "airy fairy," Donny gave him a big kiss!
"It was my moment," Donny laughed to OK! afterward. "I snapped. I went there." The singer, who is Mormon, joked, "In Utah, it would be the dark side."
Pro dancer Derek Hough commented to OK! of Donny's male kiss, "Maybe he gained a new fan base!"
Debi Mazar, who scored a 17 for her samba with partner Maks Chmerkovskiy, said her neck injury is completely healed and she's enjoying dancing: "I could have done better but I had such a good time. To me, this was such a happy dance."
Maks also has been helpful to another competitor, snowboarder Louie Vito, who startled the crowd by slicking back his long hair and looking more ballroom ready. And Louie revealed backstage that Maks styled it for him! Louie and pro Chelsie Hightower caused talk by steaming up the dance floor for their rumba, earning a score of 20. It left everybody wondering, have they taken the romance off the dance floor?
Article continues below advertisement
Louie told OK! "It's an illusion. We're such good friends. We spend so many hours together. It think I've spent more time with her than I've ever spent with any girlfriend all put together. We're pretty close now and it makes the dancing a lot easier."
Model Joanna Krupa and partner Derek Hough impressed again with a solid samba that scored a 23. But Joanna confided to OK! "I was a little upset at myself. It was tiny things I knew I could have done better. But overall, we did a good job."
Iron Chef star Mark Dacascos confessed of his rumba with Lacey Schwimmer, which earned a score of 18, "One of the biggest issues I was having was spinning Lacey with her leg up above her head. I was nervous about dropping her." But he didn't--and Lacey is afraid of nothing. The dancer is branching out into singing professionally and she announced she's going to release her first album next year. Look out, Mark Ballas and Derek and Julianne Hough!
Article continues below advertisement
Rounding up the rest of the dancers, Chuck Liddell and Anna Trebunskaya got a 17 for their samba, Kelly Osbourne and partner Louis Van Amstel rebounded from last week's disappointment with a 20 on their samba, Melissa Joan Hart and Mark Ballas were also judged improved with a 19 for their samba, and Michael Irvin and partner Anna Demidova got the lowest score of the night for their samba, a 14, with judge Bruno telling the football great, "you dance like a tank!"
Will his low score send Michael rolling home — or will Tom's fractured feet finally force him to pull out? Tune into ABC tonight to see!