NEWS
DWTS Watch: Mya Leads, But Donny Steals the Show in Finale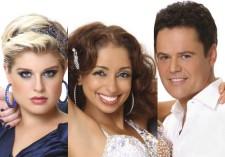 With everything on the line, Donny Osmond stole the spotlight with his showmanship on Monday night's Dancing with the Stars finale. While singer Mya proved why she's been the front-runner all season, receiving the highest cumulative score with partner Dmitry Chaplin, it was Donny and partner, OK! blogger Kym Johnson, who left the most lasting impression, delivering a splendid Broadway-inspired freestyle routine that had the judges praising his showmanship and the audience on its feet.
Article continues below advertisement
Meanwhile, Kelly Osbourne, who won new fans with her inspirational dance journey with pro Louis Van Amstel this season, struggled through her freestyle routine, making it look unlikely that they'll be finishing number one tomorrow night.
Donny, the oldest ever DWTS finalist at age 51, told OK! after the show of his triumphant freestyle dance, "It's so exciting!"
On Monday night, the three final celebrities had to perform three dances — two individual and one Megamix group competition with the other celebrities. Donny got a 27 out of 30 for his cha cha, with judge Carrie Ann Inaba saying there was "one little fluff" in the routine. He placed second in the group Megamix dance, receiving a score of 28.
In his final dance of the night, the singer garnered a perfect 30 for his high-kicking freestyle to the song "Back in Business." Judge Len Goodman called it a "showstopper" and judge Bruno Tonioli gave him a standing ovation, saying the routine displayed "Mr. Show Business at his best." Donny's total score of 85 was good for second place.
His freestyle seemed so effortless — but perfectionist Donny confided that he and Kym agonized over the dance in rehearsals. Donny said he thought, "Is this really going to work? Is it going to be tacky?" The singer gave credit to show producers for helping him deliver the perfect routine.
Article continues below advertisement
Kym will soon be performing in Burn the Floor on Broadway, which also helped inspire the number. "We both really like big band kind of songs and when we heard this, it was like, this is it," Kym said of their choice.
Donny said after last week's tango debacle, in which he got tangled up in Kym's dress and was distracted by his sister, Marie Osmond, he was determined to stay in control: "you just concentrate on your steps. You do not let your mind wander. I was so focused tonight."
The singer — who told OK! last week he entered the DWTS competition specifically to beat the record of Marie, who performed in the show in 2007 and finished third — said his sister gave him nothing but praise Monday night: "She was so proud. She was so happy."
Donny doesn't know what will happen in tomorrow night's grand finale, but the veteran star, who has made no secret of the fact he's in it to win it, said, "I just hope the fans bring us through."
Article continues below advertisement
Once again, Mya found herself in first place after an impressive evening. She and partner Dmitry got a 30 for their paso doble, a 30 for their Megamix, and a 27 for their freestyle. Their combined score of 87 ruled the night. But the judges found her Hairspray-inspired freestyle slightly lacking, with Carrie Ann sniffing that it was "not outstanding," and Len saying there was a "sameness about it."
Mya addressed the judges' criticisms after the show, saying, "I can understand our freestyle is where we have to push the limits and be free and escape to some nowhere land that doesn't exist but I can't do flips and acrobatic things. I can only dance and do choreography as much as I can and that was pretty high energy happening on that floor. I was exhausted. I could have done better, but I honestly didn't want to kill myself in the Monday night finals, either," because she and Dmitry and all the other competitors also have a fourth dance to perform on Tuesday night.
Article continues below advertisement
Why didn't she do flips? Mya was sporting a taped up right ankle on the press line and admitted she's been quietly battling a bad sprain most of the season: "it is what it is. It's pretty hurt. I haven't really talked about it. I didn't want to get into the mind set of me having an injury and it being a setback for me mentally. I blocked it out. It is a sprain. I've had it for weeks now."
Mya said because of the large number of dances the finalists had to learn and perform, "this has been the hardest season" of DWTS.
Kelly and Louis started fairly strong with their first dance, the Argentine tango, getting a score of 26. Judge Carrie Ann called it a "sophisticated routine." They also received a 26 on their Megamix competition dance. But they seemed to fall all over the floor on their third dance, a disco-inspired freestyle to the Gloria Gaynor anthem "I Will Survive." While the judges praised Kelly's spirit and the crowd had cheered her on, Len said there were a "few worrying incidents" and Kelly only got a 24. She and Louis wound up with a total score of 76, for third place.
Article continues below advertisement
After the show, Kelly explained to reporters there was a reason for her missteps — her dance makeup caused her to become as slippery as a seal on the ballroom floor! "I'm wearing this stuff called Body Gleam. It's sparkly stuff. I didn't think anything of it — didn't have it in rehearsal. But it made me turn into — I might as well have poured baby oil on myself!" Kelly laughed that during the dance she was trying to hold onto Louis' fingers for dear life but he slipped away! And Louis sighed, "I couldn't hold on. I knew I had to take her down in a helicopter."
Whatever happens, Kelly is pleased to have been part of the final three because: "it's a difficult one when you're coming in with zero dance experience and competing with people who have a little bit. I definitely came into this competition raw."
The plucky star wasn't a bit disappointed to have gotten the lowest scores of the night, saying, "Just to be here was so amazing, so fun." She admitted, "I don't think I'm going to win." But her loyal partner, Louis, told reporters, "It ain't over 'til it's over. We have one more dance."
In fact, tomorrow night, the top three will have one last chance to impress the judges as they will perform their favorite dance they've done during the season. The entire top 16 that started the show will also return to do exhibitions, and, of course, the disco ball trophy will be awarded. Tune in to ABC tonight night for the DWTS grand finale!
By Carole Glines