NEWS
DWTS Watch: Natalie Coughlin Sinks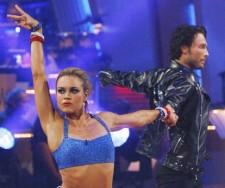 Though she earned a respectable score this week, it wasn't enough to keep Olympic swimmer Natalie Coughlin afloat on Dancing with the Stars and became the latest celeb to be eliminated from the hit ABC show.
Natalie and partner Alec Mazo had received a 22 for their paso doble performance on Monday night and had hopes of improving on that next week. While judge Len Goodman called it "very well done," Carrie Ann Inaba implied Natalie needed to show more character while dancing. And apparently viewers agreed.
Article continues below advertisement
"It's not that I necessarily wanted to win, but I just wanted to stay in it," a visibly upset Natalie, 27, told OK! after the elimination show. "It's just disappointing because I went into last night so excited about the dance and I was really happy with how it turned out but the judges didn't like it as much as we did."
Loyal partner Alec said, "I think the judges could have been a little nicer but circumstances fall the way they do. I'm upset, clearly. We didn't want to get cut. I think Natalie did everything in her power to do what she needed to do for the show. We kept working on character — it's something you develop, not something you just have. She's a great and very hard working person."
Natalie confided that leaving her new DWTS friends will be wrenching: "the hardest thing is I've been around Alec and everyone else for the past two and a half months, day in and day out, and it's going to be such a life change to go back to everything—do I stay in touch with people? Do I not? It's going to be hard."
But Natalie definitely plans to get back into swim training — with more Olympic medals as the goal. "I've been on a break for a year and a half, which is the longest break I've taken since I've been six years old. I need to refocus on the London 2012 Games."
Article continues below advertisement
When asked if she'd appear on any other TV shows, Natalie laughed, "probably not. People come into the show for different reasons, and I honestly just wanted to learn how to dance. I enjoyed the process — it wasn't so much being on TV or becoming more famous." She thinks learning ballroom has helped her become an even better athlete.
Partner Alec plans to take a week off with his dancer wife, Edyta Sliwinska, who was eliminated earlier in the season with her partner, Ashley Hamilton, and then they'll do some ballroom shows together.
As Natalie and Alec licked their wounds, the other couple who were in the bottom two, Aaron Carter and Karina Smirnoff, felt nothing but relief. The former front runners, whose performances have recently faltered, got a 24 for their Argentine tango and advanced to next week.
Aaron — who did some interviews solo after Karina had to leave the press line for a family obligation — told OK! the night was "so nerve-wracking and difficult. I'm trying so hard. The scores were really close and the fans aren't voting as much as we need them to. That kind of sucks a little bit. I'm going to try to keep my head up and stay positive."
Article continues below advertisement
The singer revealed that Karina "shed some tears after we realized we were safe. I was like, 'don't worry, you're okay, I'm your friend, I'm here for you still, no matter what, even if we go.' "
Singer Mya, who has excelled during the competition with partner Dmitry Chaplin — but scored second behind Donny Osmond and his partner Kym Johnson this week — said of the shocking bottom two, "this is an unpredictable show. We can all have a horrible night and have a big surprise we're not ready for."
In other DWTS news, Kelly Osbourne updated reporters on her sprained right foot — which was injured Monday night while she performed the paso doble, for which she received a score of 24 with partner Louis Van Amstel. She twisted her foot and a buckle on her shoe hit the floor. "Because the floor there isn't laid like a normal dance floor, it's concrete underneath it — it just made it extra harder and I've got a lot of swelling around the joint. Within a couple of days it will be fine."
Article continues below advertisement
Kelly pushed through the pain during the group hustle dance on Monday night, with co-star Melissa Joan Hart helping to hold her up and father Ozzy Osbourne offering her comfort backstage before she was whisked to the hospital.
"Thank God my dada was here! When I was in that wheelchair, he was like taking me on joy rides up and down the halls and making me laugh. He asked the ambulance man if he could drive the ambulance and they were like, no. And he's like, 'but I've got my license now!'
"Usually…I would find myself being so dramatic and being like, having a bell and having someone do everything for me. It's the first time I ever injured myself and have been like, ah, I can't believe I did this!"
Pro dancer Louis told her, "you're pushing through it," and Kelly replied, "I am. I have to! I want to! I don't want it to become a sympathy thing where I do bad next week and people are like, oh, but she hurt her ankle. I want to get through because I did good."
Next week, the stakes get even higher for Kelly and the other remaining celebrities, as they face a double elimination, in which two couples will be kicked off. Kelly laughed, "I will do anything to make sure I'm not in the bottom two with Mya or Donny because then I have no f----ing chance!"
By Carolie Glines