NEWS
DWTS Watch: New Season Kicks Off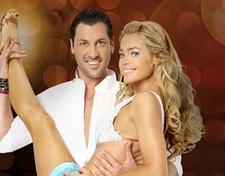 The eighth season of Dancing With the Stars kicked off Monday night with two of its original celebrities not even making it to the dance floor due to injuries.
It was a first for the hit ABC show, which has had its share of injured stars — but never ones that couldn't even make it to the first show. "This has been the most dramatic pre-season we've ever had," hostess Samantha Harris marveled to OK!.
Article continues below advertisement
As OK! has already reported, Access Hollywood hostess Nancy O'Dell, who suffered a torn meniscus in her knee, was replaced by The Bachelor's jilted beauty, Melissa Rycroft. And Girls Next Door star Holly Madison stepped in to take the place of singer Jewel, who fractured her tibia.
A misty-eyed Melissa, who earned an incredible 23 out of 30 for her waltz with Tony Dovolani after having just two days to prepare, told OK!, "I'm speechless. I'm overwhelmed. Did I just do that?
"Today is one of the highest highs I've had in a long time and it's following one of the biggest lows I've had," Melissa said, referring to her Bachelor experience, in which Jason Mesnick dumped her after having proposed to her on the ABC show. "And it hit me when we finished our routine and I got a little emotional just going, wow, this opportunity is amazing. We had two days to cram it in and we did it."
Article continues below advertisement
Though she's not competing, Jewel still talked to OK! after the show. "I fractured my left tibia just from overuse," the singer, who is walking with the aid of a crutch, explained. "It was from eight hour days, seven days a week." Unlike Nancy, she won't need surgery and says, "It will heal."
Still, "it was hard to watch somebody in my dress doing my routine," she admitted about observing Holly from the audience.
The singer, whose rodeo star husband Ty Murray is competing on the show, said, "It sucks that we can't do it together but I'm going to support him."
Holly, who got 18 for her cha-cha-cha with partner Dmitry Chaplin, said when she got the call to be a last-minute replacement, she had no reservations. "I was really excited. I always wanted to do the show so I just threw myself into this. I don't have any experience but I'm working really hard and hope to do better next week."
Article continues below advertisement
The Playboy beauty is keeping her mind off the thought of getting injured. "I'm trying to stay positive."
Meanwhile, Sex and the City stud Gilles Marini was surprised to get the highest score of the night with his partner Cheryl Burke. Their sexy cha-cha-cha earned a 24. "I never danced before," the French actor revealed. "In my neighborhood where I grew up, we don't dance ballroom. We play soccer!"
'80s pop icon Belinda Carlisle told OK! after getting 17 for her waltz with partner Jonathan Roberts, "I'd like to think I have the beat still." Belinda explained, referencing her hit Go-Go's song "We Got the Beat!", "This is my favorite show and being challenged like this is typical. I've always done weird things and this is one of the weirder ones."
After her cha-cha-cha got a score of 18, Denise Richards told OK!, "I had fun. It's very scary." Denise is getting along so well with her partner, Maksim Chmerkovskiy, whom she calls Maksy Poo. "I have nicknames for everyone," she said.
Article continues below advertisement
In another DWTS first, a real couple took the stage together, when pro dancer and up-and-coming country star Julianne Hough performed with her boyfriend, country singer Chuck Wicks.
"I was very nervous," Chuck said. "It was such a great feeling to get it over with." They earned a score of 20 for their waltz.
The youngest DWTS competitor ever, gymnast Shawn Johnson, danced the waltz with Mark Ballas and was awarded a big score of 23, tying Melissa and Tony. "I feel amazing. I'm working hard," she told OK!.
Actor and comedian David Alan Grier, who is partnered with Kym Johnson and earned a score of 19 for the waltz, said he was worried about getting injured before signing up for DWTS, but "I've performed my whole career and if I leave the competition, it's because I can't walk. I've always had problems with my body but I've got to push through it."
Lil Kim, known as much for her jail time as for her singing, got a 21 for her cha-cha-cha with last season's pro champ, Derek Hough. She's looking forward to viewers seeing her softer side. Derek raved, "I love being around her — she has such positive energy."
Article continues below advertisement
Jackass Steve-O waltzed away with a 17 with dancer Lacey Schwimmer. He's been in rehab recently and admitted, "The past year has been a rocky road. I'm on borrowed time and I'm grateful for that." Steve-O is looking forward to losing weight on the show: "I put down the bottle and the other stuff and picked up the fork and I've definitely got some shaping up to do."
Ty Murray, who earned only 14 for his cha cha cha with partner Chelsie Hightower, said candidly, "I got nervous tonight and I'm embarrassed. I was out of my comfort zone."
But computer pioneer Steve Wozniak, who received the evening's lowest score, 13, for his cha-cha-cha with DWTS regular Karina Smirnoff, couldn't have been more upbeat.
"We hit every single beat with the foot on time, good positions," he told OK!. "We had the fastest routine. We did exactly what we wanted—a fun dance people would like. The judges didn't rate it high but we're betting the general public does!"