NEWS
'DWTS' Watch: Pamela Anderson to Hang Up Her Dancing Shoes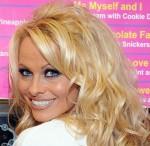 Pamela Anderson was voted off Dancing with the Stars on Tuesday night after she got the lowest score for her individual dance of any competitor this week.
The Baywatch babe and her devoted partner Damian Whitewood earned 24 out of 30 for their waltz on Monday night. And even though their 27 in the team cha cha raised their total score to a 51, it wasn't enough to save Pam from getting voted off.
Article continues below advertisement
Unfortunately for Pam, what did happen was that she suffered an injury to her leg, which made her unable to perform in the encore team dance on Tuesday night. Later in the night, she learned she wouldn't need to worry about the hurt leg, because her time on the show was over.
"I cut my leg so I was supposed to stay off it today," she explained backstage. Her partner Damian said Pam injured herself while wearing tango shoes.
Article continues below advertisement
OK! DWTS WATCH: OLYMPIAN EVAN LYSACEK TANGOS TO THE TOP SCORE
Pam said she'll miss a lot about DWTS, including, "all the friends that I'm going to stay in touch with and the challenge of trying to learn a new dance. I like working really hard at something. I learned a lot." She thought her best dance was the rumba.
The beauty will have to watch what she eats again now that she's not dancing 24/7. "I can't eat perogies anymore — darn it!" she laughed of the fattening treat her mother's been cooking for her to keep weight on during DWTS.
OK! NEWS: CHAD OCHOCINCO ASKS CHERYL BURKE: "ARE YOU REALLY IN LOVE WITH ME?"
Now, she confided to OK!, her fitness plan will be to do a real life Baywatch and actually learn how to surf. "I'm going to get in the ocean. I promised myself I'd learn how to surf this year. I surf a little bit and so I've got my pink surf board and I'm ready to get in the ocean.
"I'm always learning new things. I think it's really important as we get older to not think that you're not too old to learn something new. It makes you live better."
Article continues below advertisement
OK! DWTS WATCH: JAKE PAVELKA STUMBLES OFF THE DANCE FLOOR
DWTS has tried to get Pamela on board since season one, and this year producers succeeded, she revealed, because her boys are older, now 12 and 13, and she could rehearse while they were in school.
Pam has plenty of future plans: "I'm doing a lot of things. I've got my clothing line; I've got my fragrance, my body care, hair care, all this organic crazy stuff I'm doing. But performance wise, I don't know what I'm doing to do next."
OK! EXCLUSIVE: DEREK HOUGH'S DWTS BLOG: SAMBA TO SUCCESS
Her DWTS co-stars will miss her. Olympian ice skater Evan Lysacek, who nailed the season's first perfect score of 30 Monday night, told OK!: "She's so sweet, genuine, down to earth. She's really not the sex icon that everyone thinks that she is."
His dance pro, Anna Trebunskaya, added, "she's just trapped in that body. She's really a different soul."
OK! NEWS: KATE GOSSELIN GOES SHOPPING WITH THE STARS
Now the rest of the competitors move on to week eight, in which everyone must perform another two dances. Evan and Anna will perform the waltz and the cha cha cha.
"I'm expecting it to be extremely challenging," the show's new front runner said.
By Carole Glines