NEWS
'DWTS' Watch: Olympian Evan Lysacek Tangos to the Top Score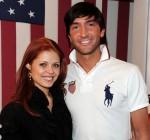 Olympian Evan Lysacek and partner Anna Trebunskaya were awarded the first perfect 30 of the season on Dancing with the Stars last night for their incredible performance of the Argentine tango.
But because their team finished second in the group cha cha competition, Evan and Anna had to settle for a tie for first with rivals Nicole Scherzinger and Derek Hough, as both couples got a cumulative score of 54 for two dances.
Article continues below advertisement
OK! NEWS: CHAD TO CHERYL: "ARE YOU REALLY IN LOVE WITH ME?"
Evan and Anna, however, became the talk of the night after they unleashed their first dance — a truly sizzling tango. They rebounded after getting their worst reviews of the season last week for their samba.
"Strong, powerful, determined!" Judge Bruno Tonioli gushed about the tango. Reacting to the perfect 30, Evan told OK! after the show: "It's really wild. We enjoyed our routine tonight and I think it was definitely our best yet. We were so prepared this week — I think we had a little extra push after having a down week last week and we changed our focus.
OK! DWTS WATCH: JAKE PAVELKA STUMBLES OFF THE DANCE FLOOR
"We were trying to muscle everything before but this week, I wanted Anna to push me in a very technical way, so we focused on finesse and clean lines." And happily, Evan, who suffered a mild concussion last week, said he's feeling no pain.
The couple's strategy clearly worked, but Nicole and Derek also continued their amazing DWTS run, as judge Carrie Ann Inaba paid the Pussycat Doll the ultimate compliment, calling her, "the best dancer we've ever had on this show."
Article continues below advertisement
OK! EXCLUSIVE: DEREK HOUGH'S DWTS BLOG: SAMBA TO SUCCESS
They got a score of 27 for their waltz. Backstage, Nicole laughed to OK!, "I was just humbled by it. I wasn't expecting that. I'm just grateful to be here and doing the best I can." And Nicole and Derek equaled that score of 27 in the team cha cha competition. "The night went wonderfully," Nicole said.
The same could be said for football star Chad Ochocinco and Cheryl Burke, who grabbed a 25 for their Viennese waltz and a 27 in the group cha cha for a total of 52. Chad has been improving every week and judge Len Goodman said Monday night he "became a contender."
OK! DWTS WATCH: NICOLE SCHERZINGER BEATS INJURY TO WIN
The grateful athlete gave his lovely pro partner Cheryl a diamond heart necklace for her Monday night birthday, another expensive token of his affection. Chad had previously gifted Cheryl with a $22,000 diamond ring.
ESPN's Erin Andrews and her pro Maksim Chmerkovskiy also performed admirably, getting a 27 for their individual dance, the quickstep, and a 24 for their team cha cha dance for a total of 51.
Article continues below advertisement
OK! NEWS: JULIANNE HOUGH NOT DATING RYAN SEACREST
Judge Len Goodman called the quickstep Erin's best dance of the season. "I was excited. I wasn't too happy that we had to dance first, but it was good," she said. Incredibly, Erin said she didn't even take in the judges' words of praise: "Whenever I'm standing there, I'm trying to breathe and I'm not really even hearing what they're saying, which is bad."
Pamela Anderson and Damian Whitewood also took home a 51, 24 for their waltz (the lowest individual score of the night) and a 27 for the group cha cha. Pam told reporters after the show, "I didn't want to let anybody down. I felt the pressure. I'm happy with what we pulled off. We had fun."
OK! DWTS WATCH: KATE GOSSELIN IS ELIMINATED
But she said of her effort in the group dance: "I want to redo the solo right now! I can do it so much better. Aaaah!" Still, the Baywatch beauty has been thoroughly enjoying her DWTS time: "It's like a little play I get to do every week. It's very lighthearted and sweet and fun. I just have to get the technique down."
Article continues below advertisement
Niecy Nash and Louis Van Amstel were thrilled to get a total score of 49, 25 for the quickstep and 24 for their cha cha. All three judges agreed it was the comedienne's best dance of the season.
OK! NEWS: KATE GOSSELIN: MY KIDS ARE "THE WIND BENEATH MY WINGS"
After the show, Niecy said, "it was absolutely awesome. I found my joy again." But the Reno 911 and Insider star added, "Louis and I had a very tough week. I had a knee injury; he had food poisoning; I had personal problems at home. We had a lot going on and for the judges to say this was our best dance ever — it means when our back is up against the wall, we might bend a little bit but we won't break!"
Niecy told OK! about her right knee injury: "I wasn't really working out before this show and something happened in there and it got inflamed and they had to have a doctor come out and take a look."
OK! NEWS: CHACE CRAWFORD CUTS LOOSE FROM FOOTLOOSE
Then Louis said of his food poisoning: "Saturday night I went to a competition and had sushi." As a result, Tony Dovolani, who was eliminated earlier this season with Kate Gosselin, stepped in for a few hours to rehearse with Niecy as a precaution. But luckily, Louis recovered in time to dance with his leading lady.
Will Niecy go home because she got the lowest total score? Or will Pamela Anderson's weaker showing in the individual dance cause her to be bathed in the red elimination light? Tune in Tuesday night on ABC to see the results show!
By Carole Glines