NEWS
DWTS Watch: Priscilla Presley Has Left the Building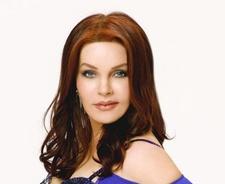 Priscilla Presley didn't convince America she could swivel her hips as well as her late ex-husband Elvis Presley — and she was eliminated from Dancing With the Stars Tuesday night.
But The Naked Gun actress knows that the King, famed for his swoon-inspiring gyrations, would have loved seeing her glide across the dance floor. "I think Elvis would be very proud," she told OK!. "I can't imagine it any other way."
Article continues below advertisement
Priscilla had been praised for her feminine grace early in the competition. But Monday night's rumba was panned by the judges, as she and partner Louis Van Amstel earned the evening's lowest score, 21 out of 30. And apparently voters agreed.
"It's been a huge challenge," she told OK! about her stint on the hit ABC show. "I've had such an emotional roller coaster on this journey. It's made me vulnerable; it's been empowering in that I was able to succeed at some feats that I thought I never could. I took risks."
Unfortunately, Priscilla's dancing was overshadowed by news of her plastic surgery nightmare. During the competition, her rep confirmed that she had once fallen victim to Argentinian physician Dr. Daniel Serrano, who was sentenced to prison for injecting patients with non-FDA approved substances. The quack has been nicknamed "Dr. Jiffy Lube."
Still, Priscilla tried to put it behind her and was happy her daughter Lisa Marie Presley — who is pregnant with her third child — and Lisa's fourth husband Michael Lockwood were able to cheer her on in the DWTS audience. "She's enjoying her pregnancy," the proud grandma-to-be smiled to OK! "She's ready to enjoy being a mom again. Her husband is on cloud nine. It's something they've always wanted together so I can't be happier."
Article continues below advertisement
She was philosophical about going home, "This is a very unpredictable show. Everybody is nervous. No one is comfortable even when there are great scores."
The oldest competitor on the show, Priscilla said of her age, "I don't feel it. I was able to do everything I set out to do and everything Louis asked me to do. Louis has really taught me a lot."
Meanwhile, actor Cristian de la Fuente, who dances with Cheryl Burke and was voted into the bottom two couples with Priscilla and Louis, breathed a sigh of relief. He said, "I was really happy that it wasn't us; I can't lie. But Priscilla will be missed. She's a legend."
Cheryl added, "She's such a classy woman and she's brought so much character to each dance."
By Carole Glines