NEWS
DWTS Watch: Say It Ain't So, Steve-O!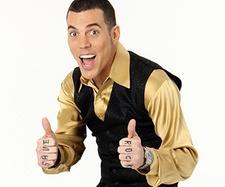 After being saved in recent weeks by the voters at home, it was finally the end of the line for Jackass star Steve-O and partner Lacey Schwimmer on Tuesday night's Dancing with the Stars.
On Monday night, the pair had received not just the week's lowest score — a 16 — but the lowest score ever seen ever on Week 6 of any DWTS season! Regardless, Steve-O had a positive spin on the bad news when <em>OK</em>! caught up with him backstage.
Article continues below advertisement
"I got an opportunity for growth, I made some mistakes, I overcame obstacles," he explained. "And I learned that I'm no darn good at dancing!"
??Steve-O, who has done things on Jackass that would make most convicted criminals blush, confessed that he was surprised by how nervous ballroom dancing made him. "I had no idea that my nerves were going to be an issue," he revealed. "Over the course of these last six weeks, I went from being such a nervous wreck to really loosening up. I really overcame that."
Steve-O's elimination means the other pair in this week's bottom two, Ty Murray and Chelsie Hightower, are safe — at least until next week. But the rodeo champ tells OK! that he was sad to see Steve go.?
"We've all really become good friends," he told OK!. "This was the first time that Steve-O faced his stress and anxiety without the crutches he's used in the past, like substances. He really manned up, and I'm happy for him because I think his life can really go up from here."??
Article continues below advertisement
Ty's good luck charm, wife Jewel, was by his side tonight, hobbling around on a cane. "I'm doing good," she told OK!. "I've graduated to a cane. I bedazzled it so I'm happy!"
??Speaking of loosening up, tonight's show featured a "body language" therapist, who analyzed each of the dance couples' moves both on and off the stage.
Next week, the stars get to design their partners' costumes; and Olympic gymnast Shawn Johnson says she can't wait to play dress-up with partner Mark Ballas. "Mark's going to wear a hot-pink leotard," Shawn told OK!.
And Mark tells <em>OK</em>! he's "totally on board" with the idea! "I'm going to put a tail on the back, maybe some pink bunny ears,"? he admitted.
As for the week's top scoring couple Derek Hough and Lil' Kim? The rapper says she's got a special surprise up her sleeve. "But you could put a paper bag on Derek and he'd still look hot!" she said.
What's Derek take on wearing something designed by a woman notorious for being half-naked in public? "As long as I don't have to wear her pasties!" he joked.?
Guess you'll just have to tune in next week to find out!
By Katie Rhames
<strong><em>Have a news tip or great photo you want to tell us about? Shoot us an e-mail: <a href="mailto:tips@okmagazine.com">tips@okmagazine.com</a><em><strong>