NEWS
DWTS Watch: Shawn Johnson Wins!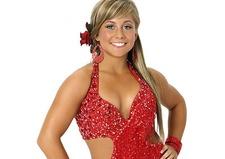 Olympic gymnast Shawn Johnson can now add the Dancing with the Stars mirror ball trophy to her trophy case, as the peppy teen beat out hunky French actor Gilles Marini in the closest one-two finish in the ABC show's history.
Although she's been strong all season, Shawn's Tuesday night finale victory was considered an upset by many, as her fellow stars Gilles and Bachelor beauty Melissa Rycroft (who finished third) had long been considered the front-runners. However, as okmagazine.com reported last night, Shawn's energetic freestyle routine, full of cartwheels and other tricks, blew away the competition.
Article continues below advertisement
In their last dances on Tuesday's results show, all three finalists got perfect 30s for their routines. But judge Carrie Ann Inaba foreshadowed the surprise ending when she told Shawn, "we all underestimated you."
"I feel amazing. This is the most rewarding experience I've ever been through," the 17-year-old gymnast told OK! after the show. "It's a dream come true. I've loved every second of it. It's changed my life and made me a better person.
"I was told at the Olympics I couldn't dance," she said. "I proved everybody wrong. Look, I can dance!"
Her partner, Mark Ballas, who also won DWTS two seasons ago with another athlete, skater Kristi Yamaguchi, fell to the floor after hearing the results. "I was blown away," He explained to OK!. "I was put on the floor — sorry for my emotional explosion at the end there. But you work so hard; it's weeks of blood, sweat, and tears and I've dedicated my life to dancing and it's been an honor to take Shawn to the end. I can't thank the fans enough for voting for us."
Article continues below advertisement
Meanwhile, Sex and the City actor Gilles finished second, less than one percent behind Shawn, according to DWTS host Tom Bergeron. After the show, OK! saw him tenderly kiss his son Georges, 10, and tell him, "it's not always about winning."
Later, he said, "Shawn is only seven years older than my son, so I'm very happy for her. For him, he understands one thing — daddy lost — so it's difficult for him. But I'll make him understand. I'm thrilled but just emotional for my son — he doesn't understand why; daddy danced good all season. But It's part of life."
Gilles, who has danced with a separated shoulder, told OK! he'll soon have shoulder surgery: "I need to get that surgery quick because things are going to kick in my life acting wise and I have to be able to move it." In fact, he's nabbed a role on the ABC show Brothers & Sisters for next season. "We're going to start shooting in August. I'm excited because the cast is insanely brilliant and I'm like, what an honor to be there."
Article continues below advertisement
His partner, Cheryl Burke, said she's taking a two-week vacation to St. Lucia with her boyfriend, model Maxwell Zagorski, and then devoting herself to her dance studios and new clothing line this summer. The dance partners vowed to be friends forever. "I love this girl to death," Gilles said.
Melissa and partner Tony Dovolani also stayed positive. She said the results were "awesome. Shawn 100 percent deserves it. In 17 years of her life, she's accomplished more than what most people will accomplish in their entire lives and she's the sweetest, most genuine girl that I know. I love her so I'm so happy she's walking away with this."
She added, "Going into today, all of us were winners in the sense that we've come so far from show number one to now. We've all become such good friends and accomplished so much, overcome injuries and hard dances and all the mental strain that comes with it.
"Tony turned me into a performer and got me to perform 12 dances."
When asked if she'd do another reality show, Melissa, who famously got jilted on the last season of The Bachelor, said, "I don't know. I'm not pursuing anything, but if anything comes my way, I'll definitely consider it because the world has definitely opened up a little bit."
Article continues below advertisement
Melissa can't wait to go home to Dallas and see her friends and family. She told OK! about a possible vacation with her boyfriend, Tye Strickland, "We want to, but schedules are busy. He's working back home."
Her devoted partner Tony said, "She's one of the most talented people I've ever met. She brought the best out of me. Whenever she puts her heart into it, this woman will always come out on top." And this time, Melissa's reality TV experience has been a lot nicer: "I'm happy she gets to go home with a smile on her face," Tony declared.
The entire Season 8 cast for DWTS came back for the finale, and some weren't surprised that Shawn took home the trophy.
Competitor and computer wiz Steve Wozniak told OK!, "Shawn had the largest audience support from middle America. I've believed for a long time that her numbers were high." And cowboy Ty Murray, who finished an unexpected fourth, said, "I knew an Olympic gold medalist fan base was going to be hard to overcome."