NEWS
DWTS Watch: Two Iron Men Axed from the Competition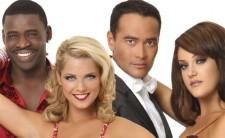 In the second consecutive double-elimination week on Dancing with the Stars, gridiron great Michael Irvin and Iron Chef star Mark Dacascos were cut from the competition on Tuesday night.
While Michael had the lowest number of votes and was cut first with partner Anna Demidova, Mark and his pro partner Lacey Schwimmer were forced into a dance-off with Aaron Carter and his partner, Karina Smirnoff. Ultimately, the judges picked the former teen star as the celeb to continue on for at least another week.
Article continues below advertisement
After the show, 43-year-old Michael told OK! about the end of his DWTS experience. "You get emotional because everybody's emotional and you hate leaving because you're going to miss people," he revealed. "But I feel great because I feel like a winner here."
The retired football star said that's because the remaining five competitors — Aaron, Mya, Kelly Osbourne, Donny Osmond, and Joanna Krupa "are five great dancers."
Michael says his achievement was different. "From where we started, in week one, to making it to week seven? I mean, that's the Super Bowl for me. I'm happy with that. I overcame one of my greatest fears, which was dancing in front of people. The other one is singing, but don't expect to see me on American Idol," he joked. "I learned a great deal of respect for the art of dancing. I'll continue to take lessons because I enjoy it so much."
Article continues below advertisement
Irvin says he'll most miss the camaraderie with his DWTS co-stars. "When I retired from football, that question got asked, and the answer was it was the locker room. That's what I'll miss here, the 'red room,' which was the locker room for us," Michael said of the place where the dancers sit during the DWTS live broadcasts.
He'll be keeping busy with his radio show, which can be heard in Dallas, and he can't wait to reconnect with his family. "I miss my boys," the father-of-four confided. He plans to take a vacation in March, when his schedule lightens up.
Meanwhile, the other eliminated star, Mark Dacascos, had to dance with a new partner, Anna Trebunskaya, last night, after his partner, Lacey Schwimmer, came down with a bad case of the flu. Lacey was feeling well enough to perform in the dance-off with Mark on Tuesday night, but the duo fell short.
"It's bittersweet because I'm really happy that Lacey came back and we were able to give it our all one last time," he explained. "And then sad because it's like being at a party and the party's still going on and the host asks you to leave."
Article continues below advertisement
Although Mark's dance form often made him look like a strong contender, week seven proved to be his undoing. He thought circumstances might have worked against him, saying they could have made it farther, "maybe with other judges and one different day, or two more hours rehearsing with Anna or if Lacey hadn't gotten sick. It's like a domino effect."
But Mark, 45, who is married to Julie Condra, mother to their three kids, said, "it will be nice to get back to my family and spend some time with them."
The Iron Chef star has a brand new body thanks to DWTS. "I've lost about seven or eight pounds. My wife prefers me with a little more weight on so if I can keep the muscle and give her some more chest, she'll be happy." He should get fattened up during the holidays, as, Mark smiles of Julie, "She's from Texas and she's gone to culinary school."
In January, Mark plans to start filming his movie Song of the Knife, about a dying hit man who sends his targets to abrupt and violent ends.
Article continues below advertisement
Now that they've bid Michael and Mark a fond farewell, the other competitors will move on to next week, when they must do two individual dances each. OK! blogger Kym Johnson said she and partner Donny Osmond have the Viennese waltz and "an '80s-inspired Paso Doble which will be like glam rock, edgy and tough." Donny promised, "She has designed an outfit for me that's going to knock your socks off. You're going to think, 'Donny has lost it!' "