NEWS
DWTS Watch: Who Will Win?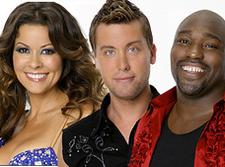 In what is likely the most riveting final performance night in the brief history of Dancing With the Stars, all three of the remaining couples pulled out all the stops on Monday night.
None of the couples — Warren Sapp and Kym Johnson, Brooke Burke and Derek Hough, Lance Bass and Lacey Schwimmer — made any major mistakes on Monday and they all provided non-stop entertainment in performing a freestyle routine and a group samba. So it should come as no surprise that everyone was smiling backstage when OK! caught up with them after the show.
Article continues below advertisement
Frontrunners Brooke and Derek solidified their hold on the top spot by earning a 28 for their samba and a perfect 30 for their freestyle, a joyful tribute to the classic musical Grease.
Judges Len Goodman and Bruno Tonioli both said it was the best freestyle they had ever seen on DWTS, now in its seventh season. And their combined score of 58 out of 60 looks hard to beat in Tuesday night's finale.
Backstage afterwards, Brooke told OK! Grease is the word! "It's one of my favorite movies and my kids' favorite movies." As for who deserves the credit for getting into the final round, she put it squarely in partner Derek's lap.
"Everything we've done great has really been from him teaching me and him getting me to where I need to be," she explained. "I feel we've done everything we needed to do this season no matter what happens tomorrow."
Article continues below advertisement
Although she's had a fabulous time on the show, mother-of-four Brooke said she's looking forward to the end of the punishing rehearsal schedule: "I miss my kids so desperately." After tomorrow night's final results she plans to, "grab my babies!"
Lance and his partner Lacey got a score of 26 for their samba and very solid 27 for their hip-hop freestyle routine, for a total of 53. The former boy-bander likened the night to the final exams in school. "You show the judges what you've learned and hope that they like it," he explained. "They loved it tonight. I think everyone did such an amazing job."
Although his hip-hop routine scored lower than Brooke's more traditional freestyle, Lance said they couldn't have picked another style of dance. "It's what our fans have been asking for since day one," he said. "We finally got to do it and I hope everyone enjoyed it because we sure did. Even Len loved it!"
Still, when pressed by OK! about the judging on the freestyle, for which he received the lowest score of the finalists, Lance admitted, "I was hoping for higher scores. That's just the theme of the whole season for them and us. I would not expect anything less — one point lower than everyone else."
Article continues below advertisement
The surprising dance journey of gridiron great Warren continued, as he and Kym earned 25 points for their samba and 28 for their freestyle, pushing them into a tie with Lance and Lacey with a cumulative 53.
The retired linebacker's move of catching Kym with his arms extended in front of him made the crowd gasp, and afterwards, he told OK! the amazing maneuver is called "the waterfall." Kym admitted, "It's scary for me because for a minute I'm completely airborne." Competitive Warren said, "That's my favorite move! I wish they had let us lift from the beginning because I would have broke down some of these little fellas early."
As for earning a score of ten from Len, the future Hall-of-Famer exclaimed, "that's what I came for. I can go home now." He added that judge Carrie Ann Inaba also "was giving us a lot of love tonight." Kym said. "She said Warren was the most improved and she said our dance was her favorite."
After the show, Len told OK! it was DWTS' most incredible night: "I can't imagine there's ever been a final like we saw tonight that would ever be better. I loved the samba they all joined in on and the freestyles were so different."
Tune in Tuesday night to see who will take home the disco ball trophy!
By Carole Glines