NEWS
An Early Morning Booty Call for Lindsay & Chace?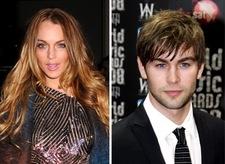 While the cat's away, the mice play — that's how the saying goes, at least.
And, <a href="http://www.okmagazine.com/news/view/11969" target="_blank">though she's denying any trouble</a> in her romance with girlfriend Sam Ronson, <a href="https://okmagazine.com/search/lohan" target="_blank"><strong>Lindsay Lohan</strong></a> has only been feeding the rumor mill with her behavior.
See, while Sam has been recuperating from an alleged ear infection in Los Angeles, Lindsay's been party-hopping, and <a href="http://www.tmz.com/2009/02/16/lindsay-lohan-spirit-of-the-night/" target="_blank">according to TMZ</a>, that includes a 6am pop-in visit to the Big Apple apartment of Gossip Girl hunk <a href="https://okmagazine.com/search/crawford" target="_blank"><strong>Chace Crawford</strong></a>.
Article continues below advertisement
While the I Know Who Killed Me star denied any illicit goings-on with Sir Chace of Sexyshire, there is a bit of little-known history between the two young stars.
Back in Oct. 2008, Linds made no secret of her crush on Chace. The twosome met at the Diesel XXX Rock Party in NYC and swapped numbers and an insider tells OK! that Lindsay texted Chace nonstop.
"She has a habit of over texting people, especially when she's attracted to them which is what happened with Chace. She'd have insomnia and he'd wake up to 5 or 6 text messages asking what he was up to. She has a habit of getting bored in the middle of the night and likes to flirt and get attention in order to keep her busy. Chace never acted on some of the things she suggested like meeting up, it was a little stalker like and creepy to be honest. He was just trying to be friendly!"
<a href="http://www.okmagazine.com/pixandvids/gallery/9350/" target="_blank"><img src="https://farm4.static.flickr.com/3437/3254188132_652633e374_o.jpg" width="427" height="70" alt="lohan2" /></a>