NEWS
'Eat Pray Love' Premiere, London: Guess Who Outshines Julia Roberts?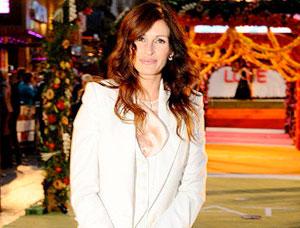 ULIA Roberts dazzled in an all-white ensemble at the Eat, Pray, Love premiere, but it was the movie's author that REALLY stole the show.
Screen legend Julia Roberts arrived at the London premiere of Eat, Pray, Love in a classic white suit ensemble and nude pussy-bow silk shirt, but lost out to author Elizabeth Gilbert on the red carpet.
Julia Roberts dazzled in an all-white ensemble at the Eat Pray Love premiere, but it was the movie's author that really stole the show. Screen legend Julia arrived at the London premiere in a classic white suit ensemble and nude pussy-bow silk shirt, but lost out to author Elizabeth Gilbert on the red carpet. (see ALL the pics here!)
Article continues below advertisement