NEWS
'Eclipse' Re-Released in Theaters for Bella's Birthday!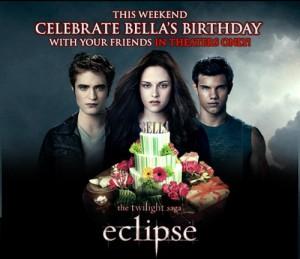 For those few who didn't catch the third installment of The Twilight Saga the first time around (or just are dying to see it again on the big screen), now is your chance! Eclipse is being re-released in theaters this Friday, Sept. 10, in honor of lead heroine Bella Swan's birthday!
That's right — the iconic character played by Kristen Stewart is so beloved by Twi-hards world wide that Summit has decided the best way to celebrate is to bring Eclipse back to the silver screen, according to MTV.
Article continues below advertisement
"Bella Swan's birthday is on September 13! What are you doing to celebrate?" a message on the Twilight Saga official Facebook page reads. "In celebration of Bella's birthday, ECLIPSE will be re-released in theatres nationwide this Friday! It's your last chance to see it on the big screen with your friends."
The film was originally released last June and follows the the love triangle between Bella, Edward and Jacob as they fend off a group of vampires, led by Victoria, who want to kill Bella.
Who doesn't want to watch the tent scene between K-Stew, Robert Pattinson and Taylor Lautner over and over again!?