NEWS
Ed O'Neill Knocks Jane Lynch 'Glee' Emmy Win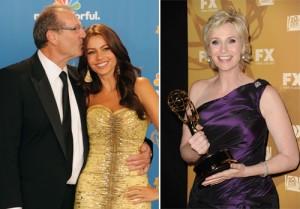 Al Bundy isn't a big fan of Sue Sylvester. Modern Family star Ed O'Neill took a moment to voice his opinion on Jane Lynch's Glee role for which she won the Emmy, and he didn't hold back when speaking his mind.
"I love Jane, honestly I do. I'm dying to star in one of Best in Show director Christopher Guest's movies alongside her, but I don't think she should have gotten the Emmy for that part," Ed told reporters during a press conference for Modern Family Monday in L.A., via E! News. "Sue Sylvester is just a one-note character."
Article continues below advertisement
The actor did have a better recipient in mind for the award — his Modern Family costar Sofia Vergara of course.
"Sofia is just so, so funny. I don't think people realize how hilarious she is," Ed said of his gorgeous on-screen wife. "She's so sharp with her wit, it's amazing."
Do you think Jane deserved the Emmy? We bet Sue Sylvester could easily take on Al Bundy any day of the week.