NEWS
Ed Westwick Got Bullied Around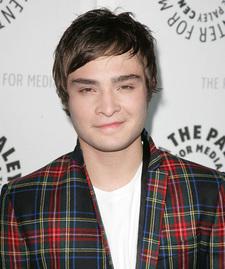 Ed Westwick's Chuck is the cause of much drama and trouble on Gossip Girl, but in real life, the actor says he's been the victim more than he has an antagonist.
The 20-year-old actor grew up with two older brothers, who had their own way of bullying him — much like the dismissive elder sibling character he plays in his new flick Son of Rambow.
"My middle brother, Will, could be a demon," Ed tells OK! "He pushed me off a stool and broke my arm. But he used to take me on his adventures in back of my parents' house. There's a small forest area where we used to build treehouses. One time, he pushed me out of the treehouse. I had a sore back for days."
Article continues below advertisement
Such abuse is typical of brother relationships, Ed says, and it's almost an unwritten rule that "you treat your brother like – for the lack of a better word – s***."
But all those cuts, scrapes and bruises are things of the past now.
"In later years, we look back on it and laugh at it," Ed says. "He was very impulsive when he was younger. He didn't realize what he was doing until afterwards."
These days, Will enjoys his baby brother's success.
"It's been a hell of a lot of fun," Ed says.
By Valerie Nome