NEWS
Ed Westwick on Topless Lady Tattoo & Johnny Rockets Restaurant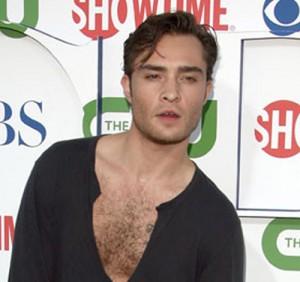 Gossip Girl star Ed Westwick told reporters that a tattoo he had inked on his upper right arm about a year ago really bugs his mom. "It's a topless lady. My mother hates it," he laughed.
While promoting the upcoming Sept. 13 premiere of Gossip Girl, set in Paris, Ed said of his folks, "They're pretty proud, I think, except for the tattoo. I'm the black sheep of the family."
OK! GALLERY: STARS ABOUND AT SWANKY CBS SOIREE IN BEVERLY HILLS
Article continues below advertisement
Ed, who surprised onlookers at the CBS/CW/Showtime party on Wednesday night by wearing a very deep v-neck tee shirt — and showed up in a wool stocking cap to Thursday's press conference, said about his real life fashion sense, "I'm different from my character Chuck Bass, I have to say. His suits get a little bit annoying. I'm sweating in them."
OK! GALLERY: ED WESTWICK & CLEMENCE POSEY — DASHING DUO IN PARIS
Another of Ed's secrets? The British actor, who was visiting L.A. to promote Gossip Girl this week, said his favorite place to go in the city is Johnny Rockets burger restaurant.
"I'm a huge fan of Johnny Rockets and my dad is, as well, so whenever we're here we go to Johnny Rockets as much as we can. Milkshake and burgers. Love 'em!"